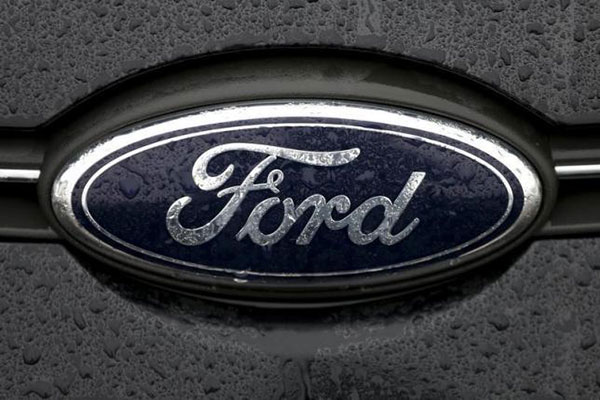 The Ford logo is pictured at the Ford Motor Co plant in Genk December 17, 2014. [Photo/Agencies] 
Ford Motor Co is looking to a raft of new sedan and SUV launches in China later this year to regain momentum in the world's largest auto market, after its sales barely grew in the first half of 2015.
China's slowest economic growth in 25 years has sapped demand for cars with Ford saying on Wednesday that January to June sales rose only 0.1 percent from the same period a year ago.
The US automaker and its Chinese joint ventures sold 83,506 vehicles in June, down 3 percent year-on-year, and following on a 4 percent rise in May.
"We expect to see a stronger second half as new products we've been launching continue to build momentum and as we launch additional products," Ford China CEO John Lawler said in a written statement.
Those new models include revamped versions of the Taurus, Everest, Explorer, Focus and Focus ST.
Sales slowed in the first half as the automaker made room for the retooled models, a Ford spokesman said.
The flat demand is a marked change for Ford, which saw sales rise 35 percent in the first half of 2014 thanks largely to its affordable Kuga and EcoSport SUV models. Ford changed to reporting retail sales data instead of wholesale in May.
The China Association of Automobile Manufacturers is due to report sales data for the mainland market overall on Friday and warned in March that 2015 sales could grow at below last year's 6.9 percent.