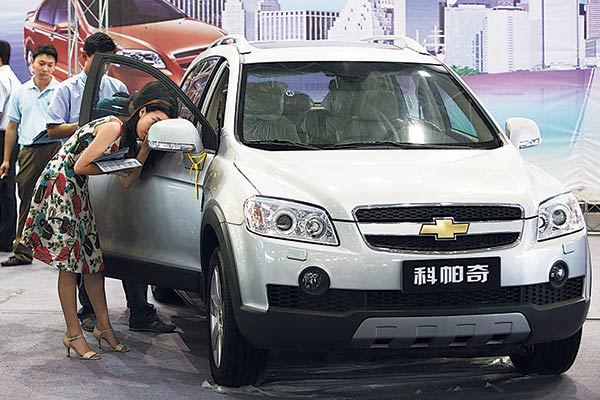 The largest price cut of 53,900 yuan ($8,687) in the latest round of cuts was to the locally made Chevrolet Captiva. [Photo/China Daily]
Automakers shoulder loss while drivers enjoy benfits
Major automakers started slashing prices on a slew of models in mid-April to shift larger volumes of cars, after sluggish sales in the first four months in the cooling Chinese market.
The latest move was by Ford China who announced 40,000 yuan ($6,450) off the suggested retail price for its imported Ford Explorer SUV on Friday. The largest price cut of 53,900 yuan was made to the locally made Chevrolet Captiva by Shanghai General Motors, which marked down 40 versions of 11 models, including Cadillacs.
Shanghai Volkswagen declared cuts of up to 10,000 yuan on manufacturer's suggested retail prices for several models.
FAW Volkswagen slashed prices of its entire lineup with cuts of up to 7,800 yuan.
Beijing Hyundai offered to waive consumer loan interest for as long as three years for buyers, a move that followed on the heels of Chang'an Ford, which offered to cover buyers' 10 percent purchase tax of up to about 30,000 yuan.
KPMG China Partner and Head of Automotive Danny Le said: "The downfall of pricing is the deflation of hype. This is a correction in the market which is maturing."
The country's passenger car sales totaled 8.14 million units in the first four months, with 2.77 percent year-on-year growth. It plunged from 10.5 percent during the same period last year, according to industrial statistics.
Thomas Callarman, director of China Europe International Business School Centre for Automotive Research, said, "The price cut is a practice to stimulate demand and to maintain certain volumes."
Shanghai GM's sales plummeted 17.43 percent year-on-year in April and a 4.98-percent drop was seen in the accumulated sales of the first four months, according to a monthly report filed by its parent company SAIC Motor Corp.
Jia Xinguang, senior analyst with the China Automobile Dealers Association, said, "The previous MSRP cannot be maintained amid the market growth slowing down."
Shanghai GM said, "The new price scheme would make the prices more competitive and products more appealing, on the basis of customer insight and market orientation."
Callarman said manufacturers and dealers would all benefit from the price slashes but consumers would benefit the most.
"The carmakers move the cars out of inventories; the dealers cut their costs and become more profitable; the consumers afford better cars at lower prices," he said.