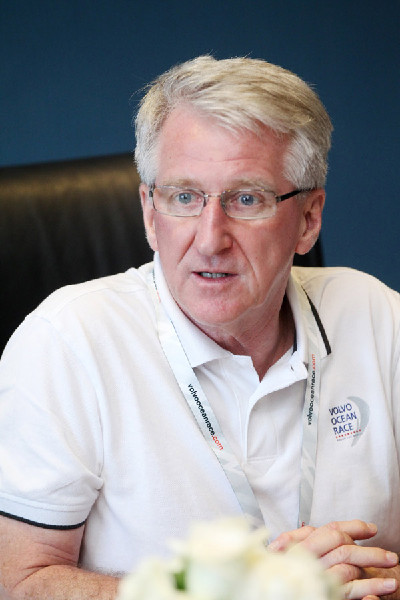 Lars Danielson, CEO of Volvo Car China, is pictured in the interview in Sanya, Hainan province on Feb 7, 2014.[Photo provided to chinadaily.com.cn]
Volvo Car China's mid-term target is a 10 percent market share with annual sales of around 200,000 units, while the global target is set at 800,000 units.
Volvo is now the No 5 luxury brand in the Chinese market in annual sales following Audi, BMW, Mercedes Benz and Land Rover, according to Fu Qiang, president and CEO of Volvo Car China Sales Co.
Industry data shows Land Rover sold 99,358 units last year in China, 22.5 percent more than Volvo, while market leader Audi sold 578,932 units.
"To achieve growth, more products is the answer. And the second is to continue extending the network," said Samuelsson.
A total of 11 vehicles are in the 2015 Volvo lineup including the S60L plug-in hybrid made locally, the new XC90 SUV, a new XC90 plug-in hybrid and the V60 Cross Country, according to the company.
The XC90 SUV built on Volvo's latest scalable platform architecture, or SPA, "will bring up Volvo to a new level of performance and technology", said Samuelsson. "It applies unique Drive-E powertrain technology with strong output but low carbon dioxide emissions."
Investment in research and development on the new model totaled $11 billion. Among its many standard features are the company's IntelliSafe technologies - collision avoidance, park assist pilot, a lane keeping aid, cross-traffic alert, pre-activated safety belts, intersection braking and priority seating. A 360-degree camera is optional.
IntelliSafe will be launched as a technology sub-brand this year, the third of its type after the Volvo Drive-E and Sensus. The new model is expected to be the safest SUV in the world, the company said.
"No casualties, no emissions" is among Volvo Cars' targets by 2020, said Samuelsson.
"We call it new luxury, it is a car that understand you, protect what is important for you, and make you feel special," he added.
Last year, all 1,927 of the new XC90 Limited Edition models were sold out in 48 hours with 200 of the orders from Volvo Car China's e-commerce channel.
Danielson said that Volvo Car China's started in e-commerce together with its dealers to explore new approaches to Chinese customers. On the ground, the dealership network expanded to 187 outlets in 2014 and will keep growing this year, said Fu.
Chinese National Geography's editor-in-chief Li Quanke said the Volvo has a good fit with the changing China. "Chinese people are elevating themselves into an honorable and respectable lifestyle. The self-improving lifestyle should become more popular," said Li. "There are opportunities for Volvo Cars' new luxury in the new consumer behavior."