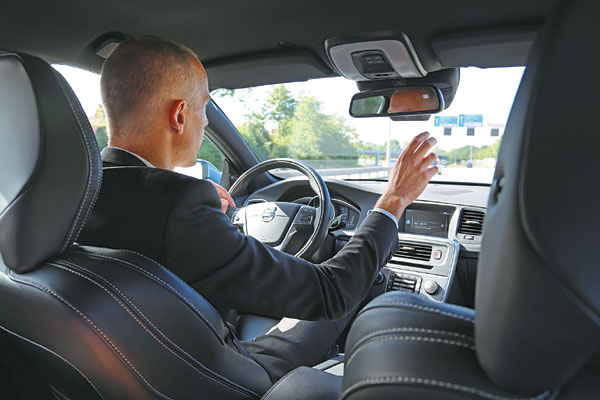 Erik Coelingh, senior technical leader with Volvo Car Corp, tests a self-driving car in Gothenburg, Sweden. [Provided to China Daily]
Reading a book or texting while driving is unacceptable for many. But things may be about to change, and not such a long time from now. Riding in a car that drives itself is the realization of a science fiction dream, one that is rolling steadily into our future.
Many carmakers began seriously looking into self-driving cars a decade ago, but until a few years ago the idea remained confined to laboratories.
Now companies such as US Internet giant Google Inc have made great strides with self-driving cars. Carmakers like Sweden-based Volvo Car Corp, which is owned by China's Geely Automobile, are starting to test their self-driving cars on the road.
Big questions remain: Will experiments with self-driving cars unlock new possibilities for millions of regular people and become the main mode of future automotive traffic? If so, when?
In a first, Volvo's Drive Me pilot project launched last December intends to put 100"highly autonomous cars" on the streets by 2017 in the Swedish city of Gothenburg, putting 100 residents in the cars and letting them travel on selected roads.
In an exclusive interview with China Daily, Volvo's CEO Hakan Samuelsson, and Erik Coelingh, senior technical leader, spoke about the company's cutting-edge technology and the opportunity for it to change the lives of millions of people.
They note that there are several different types of technology for driverless cars. Google's latest concept car does not have a steering wheel or a brake pedal, making it more like a movable basket with humans inside.
Unlike Google's autopilot concept, most carmakers are using a traditional car look and using driverless functions to assist manual driving.
The main aim, the Volvo officials say, is to achieve zero accidents by 2020 by using driverless technology, and to make future traffic more efficient through sustainable mobility based on the technology.
"Autonomous driving is definitely a prerequisite to reaching sustainable mobility. Driverless cars can be made much more energy efficient and safer. Also, the infrastructure can be optimized for a future society with more people living in mega cities with better access to mobility," Samuelsson says.
Coelingh says: "We believe we will have a future in which cars should not crash. In the shorter term, the aim is that by 2020 no one should be killed or seriously injured."
To achieve those goals, the company is developing autonomous features that reduce or eliminate human error by making cars better at driving themselves.
According to Coelingh, in 90 to 95 percent of all crashes, human error is partly or fully responsible. Eliminating human error offers the greatest potential for reaching the goal.
"An automation system that does not require supervision can be made safer than one that relies on human supervision," he says. The car can take control of itself in dangerous situations such as drowsy driving.