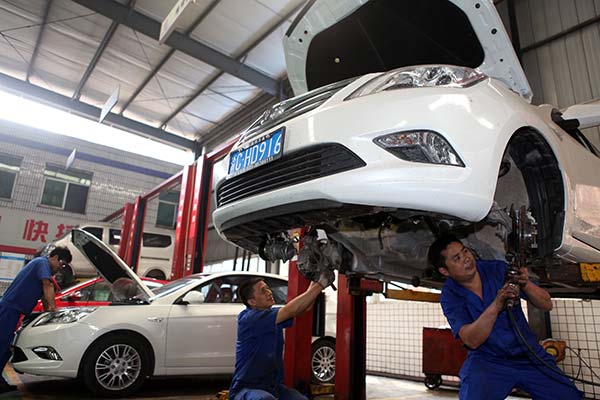 Workers check cars at a technical center in Chongqing. Customer satisfaction is a priority for dealerships in China, analysts say. [CHEN SHICHUAN/CHINA DAILY]
Research shows auto dealers need to improve services to benefit from booming market
Customer satisfaction is challenging China's auto dealers amid growing sales and increasing market uncertainty, according to an industry insider.
"Along with the government's tightening policies for car sales in consideration of environmental protection and limitations of vehicles on roads, customer satisfaction is something that should be placed top of dealers' agendas," said Finbarr O'Neill, global CEO of JD Power, at a recent customer satisfaction award ceremony.
JD Power projected that by 2020, global auto sales will surge to 114 million units, with 43 percent from Asia. It predicted that China would account for two thirds of Asia's auto sales.

It predicted that China's growth rate would surpass 7 percent in the next few years, higher than the average growth figure of 5.1 percent in emerging and mature markets.
The research firm also projected that light vehicle sales in China will be about 24.3 million units, a rise of 11 percent from last year. Among these, passenger vehicle sales will reach 18.9 million units, a year-on-year growth of 13 percent.
Currently there are nearly 100 car brands represented in the county, which is almost the same as in the US, O'Neill said.
Despite the market growth, he warned that quality management of dealers is crucial to improving customer satisfaction.
"Improving the customer experience and communicating the right message are core strategies for both domestic and international automakers," he said. O'Neill stressed that car companies are not short of capital to sustain business performance, but need more professional training for staff and to use more technological management.
He urged dealers to address their weak links in statistics management and quality control as customer satisfaction affects their revenues and profits.
JD Power's statistics indicated that the average dealership revenue for highly satisfied firms reached 129 million yuan ($21.1 million) last year, while the low and medium ones topped 93 million yuan.
In the highly satisfied dealer shops, 55 percent of clients said they would buy or consider to buy recommended brands while in the low and medium ones, the figure dropped to 33 percent in 2013, according to the company.
O'Neill said if dealers don't devote more effort to management they will not only lose profits but also poorly impact automakers. According to JD Power Chinese car buyers are keen to research vehicles themselves as well as rely on the expertise of auto dealers. Before they enter a dealer outlet, smart buyers will already know the automakers' full lineup of cars.
Chinese customers are good at making comparisons between auto brands and dealers in terms of price and services, O'Neill said.
Echoing O'Neill, Lu Haitao, brand manager of Dongfeng Peugeot, said, "Chinese customers are more demanding on dealer services. Dealers should update traditional management with diversified and tail-made services."