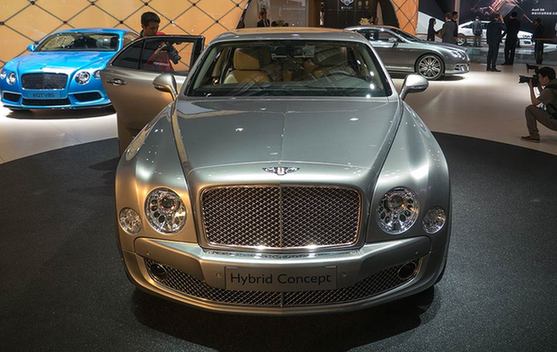 Bentley's Hybrid Concept limosine makes its world premiere during the media day on April 20, 2014 at the on-going Beijing International Automotive Exhibition (Auto China 2014). [Hao Yan / chinadaily.com.cn]
BEIJING-- Car-obsessed Chinese know who drives what. As the former "bicycle kingdom" witnesses the biggest boom in automotive history, the car has become more than a means of transport. A driver's make and model are now a source of status and stereotypes.
According to a list that has circulated on China's blogsphere, the BMW 5 Series is for the nouveau riche, the Audi A6 is a must-have for senior officials and the Chevrolet Cruze is the darling of the post-80s generation.
These are among the brand perceptions that confront the world's auto executives as they gather in the Chinese capital for the 13th Beijing Auto Show, which kicked off April 20 and runs through April 29.
Auto industry leaders have come to showcase their latest models and technologies in the world's largest car market, where 22 million vehicles were sold last year, easily surpassing the United States. To grab a piece of the world's fastest-growing market, automakers must play up, or transform, Chinese consumers' perceptions of their brands.
No other company has been as successful in marketing its image in China as Germany's Audi AG, the first premium manufacturer to work with a local partner, state-owned First Automotive Works (FAW), to produce vehicles locally.
A supplier to the government for decades, Audi linked its A6 sedan to the political elite and watched its Chinese sales overtake the field. Half the world's A6s are sold in China. In Beijing, it is easy to spot government ministers on the road: they sit behind the tinted windows of gleaming black long-wheelbase A6s bearing special license plates.
When China removed foreign car brands from the official vehicle purchase list in 2012 to promote local industry and frugality, Audi adjusted its strategy, expanding its locally produced lineup to lure a growing class of affluent private car buyers.
Despite complaints about high engine oil consumption, the brand with the four-ring logo is such a hit in China, its largest market, that people say "men love Audi like women love Dior."
Audi claimed top spot in the luxury car segment in China last year, with nearly 492,000 vehicles sold, up 21 percent from a year earlier. Its main rival, BMW AG, came in second with last year's China sales surging 20 percent to 390,700 deliveries, about one-fifth of the group's global sales.
However, a series of negative news reports about BMW drivers involving fatal hit-and-runs and verbal or physical abuse have given Chinese BMW owners a reputation for arrogance among some.
In March in Wangjing, a Beijing commercial district, a man was killed after being knocked to the ground by a BMW and then run over by a bus. The BMW fled the scene. During the same month in the southern city of Shenzhen, a BMW struck and killed a woman, but didn't stop until it hit another car 80 meters down the road.
Despite unflattering reports about the brand's drivers, the German luxury cars appeal to many in China because of superior engineering, and most importantly, their moneyed image.
Daimler AG's Mercedes-Benz has lagged behind Audi and BMW in China, where the Stuttgart-based automaker sold 228,000 vehicles last year, an increase of 11 percent on the previous year.