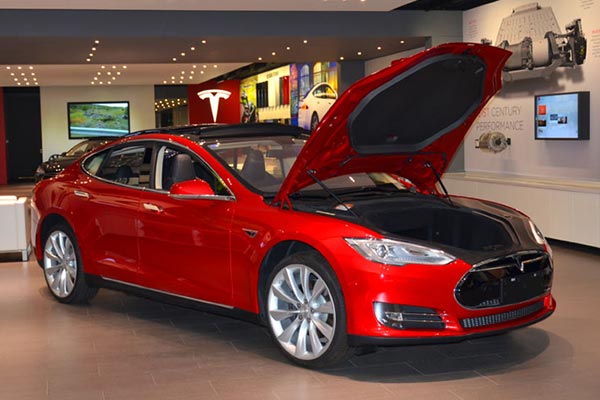 A red Tesla Model S on display at Tesla's first showroom in China, which is located at the Parkview Green in Beijing on March 21, 2014. [Photo / crienglish.com]
Continuous haze in China has prompted more people to seek a healthy, eco-friendly mode of transport. New energy automobiles, which have been under development in China for more than a decade have recently come to the center of public attention since being proposed by members of the CPPC in March.
The Chinese government has scaled up its subsidies for new energy vehicles. Beijing and Shanghai are also taking measures to abolish local protectionism. The new energy automobile market witnessed a sharp increase of more than a third in 2013.
As one of the seven car models included in Beijing's New Energy Vehicle Catalogue, BMW's newly-developed all-electric sedan, the Zinoro 1E, made its debut in Sanlitun Soho in Beijing in mid-February.
Wu Haifeng, the manager of Zinoro's Beijing showroom explained that the Zinoro is offering an innovative rent-only mode of operation, ranging from one-day rent to three-year rent.
Wu stated that many prospective buyers are taking a 'let's wait-and-see' attitude towards the emerging sector. Rental cars can offset their concerns, and they can rent for just one day to experience and decide whether the electric car meets their needs.
To save consumers' time and energy, Zinoro also offers an all-inclusive service, namely a one-off rental fee covering license plates, insurance, and after-sales services including maintenance and repair.
"From next week, five Zinoro 1e will be dispatched for test runs. Up to now, several hundred clients have come for consultations and to make reservations for test runs," Wu said. Addressing the central concern of buyers over the battery endurance of new energy cars, another car model included in the Beijing New Energy Vehicle Catalogue, the BYD e6 carries an absolute advantage. Ma Linbo, a sales manager at the Xin Min Heng BYD 4S store, said that the e6 is an all-electric crossover vehicle which combines the properties of an SUV (Sport Utility Vehicle) with those of an MPV (Multi-Purpose Vehicle).
"The driving range of the e6 reaches over 300 kilometers, exceeding that of other self-developed car brands by 50 percent," Ma said.
However, the e6 and 1e, as all-electric vehicles pitched at high-end markets, are not competitive enough in terms of price.