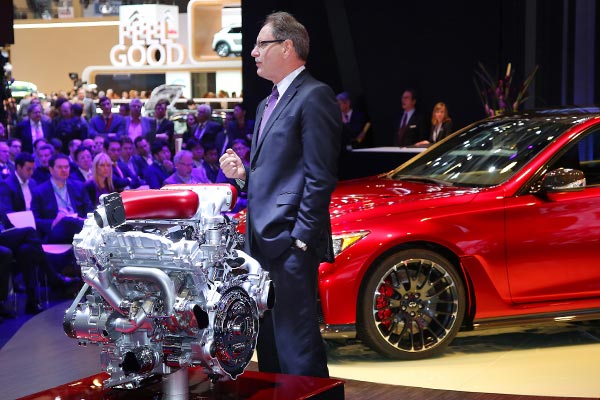 Johan de Nysschen, President of Infiniti Motor Co Ltd, revealed the Infiniti Eau Rouge concept car and its twin-turbocharged 3.8-liter V6 petrol engine. [Photo / provided to chinadaily.com.cn]
Infiniti turned its Q50 into ahigh-performance premium sports sedan at the 2014 Geneva International Motor Show on March 4 by revealing a powerful engine for the Q50 Eau Rouge concept car.
The Infiniti Q50 Eau Rouge, based on the award-winning Q50 sports sedan,now packs a twin-turbocharged, 3.8-liter, V6, 24-valve petrol engineand has acompelling power with a full 560hp and 600Nm of torque on demand.
"Building on the extremely positive feedback on the Q50 Eau Rouge at its recent Detroit Auto Show launch, we decided to further whet the appetite of performance sports sedan fans by engineering this powerful heart into our blood-red beast," said Johan de Nysschen, president of Infiniti Motor Co.
All-wheel drive system with 50/50 front-to-rear torque split. Predicted acceleration of 60mph in less than four seconds and a top speed close to 180mph would put the Q50 Eau Rouge firmly into the premier league of super-sports sedans.
The most powerful and exhilarating petrol-powered Infiniti model has not been confirmed for production, but the unveiling of the latest iteration of the Q50 Eau Rouge in Geneva underlines the company's determination to create engaging performance cars for a premium segment.
Current Infiniti Q50 sedan has notched up thousands of unit sales in the US market. The company started offering its latest model just last month in Europe, and has already received more than 5,000 test driving request.
The Q50 2.0T, Infiniti's first turbo model, made its world premiere at the Guangzhou auto show in November last year, but now it is not available in the Chinese market.
"We are extremely keen to know Chinese customers' feedbacks after the Q50 model is launched. Q50 is designed to be tougher, more rigid than all the other models on offer now in China," said Infiniti's Executive Design Director Alfonso Albaisa.
Infiniti Q50 carries NASA's ground-breaking Direct Adaptive Steering technology, which calculates the wheels' turning angles and speeds in the ECU in accordance with the driver's steering strength and road conditions.
"Chinese customers are more open-minded to new technologies," said Andy Palmer, chief planning officer of Nissan Motor Co. "New concept and technologies are accepted and embraced in a shorter time."
"Chinese marketis attractive. The market is younger and is amarket that we can define," said Palmer.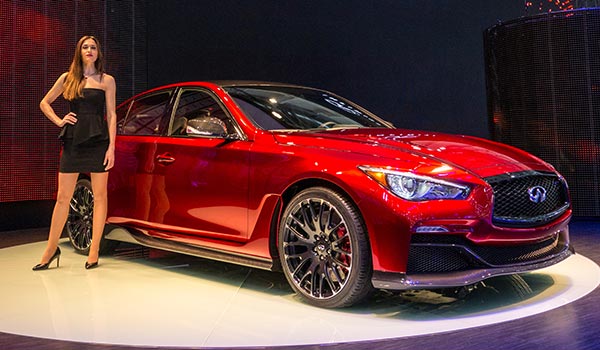 A model poses next to the Infiniti Q50 Eau Rouge concept car on March 4, 2013 at the Geneva International Motor Show in Switzerland. [Hao Yan / chinadaily.com.cn]