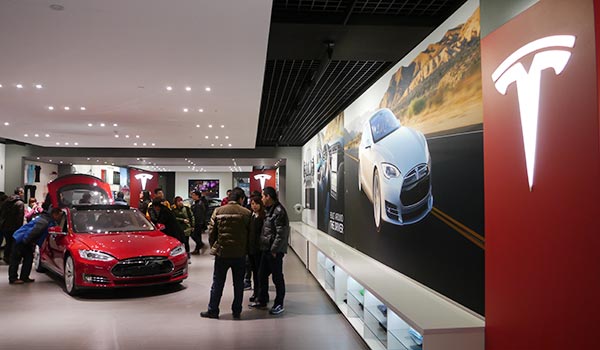 People look at Tesla Model S on Feb 5, 2014 in Tesla Motors' Beijing showroom in China. [Hao Yan / chinadaily.com.cn]
Sinomach Automobile Co announced on Monday night that it has provided services to Tesla Motors to obtain China Compulsory Certification for the imported fully-electric sports car Model S, according to Shanghai Securities News.
Sinomach Automobile has seen its stock price surge more than 20 percent for three continuous trading days, from Feb 14 to 17, and on Tuesday, the first day after the announcement,it again hit the daily 10 percent limit up, closing at 21.99 yuan.
Sinomach Automobile is a car import agent company under China National Machinery Industry Corporation (Sinomach).
More pictures: