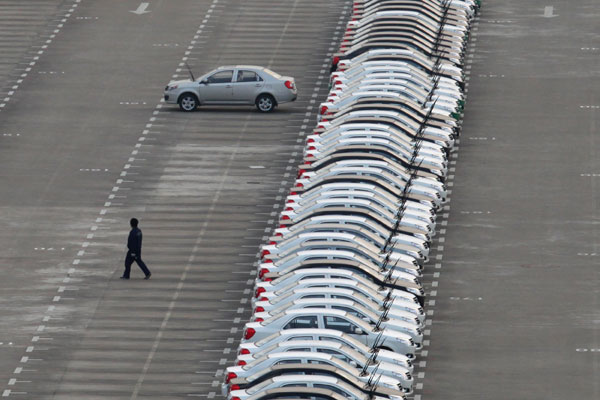 New vehicles ready for delivery at a Geely Holding Group Co Ltd plant in Taizhou, Zhejiang province. [Pan Kanjun / For China Daily]
Diplomatic gatherings and international events are giving domestic vehicle producers a chance to raise their global profiles.
Zhejiang Geely Holding Group Co Ltd, which made its name in the global market with the successful acquisition of Swedish luxury car brand Volvo in 2010, became the first domestic player to be designated an official car supplier for APEC 2014.
The Asia-Pacific Economic Cooperation is a forum for promoting regional growth and trade. China is the host of APEC this year, and the nation is expected to host more than 100 APEC meetings and related events.
Geely will supply vehicles for the first senior officials' meeting from Feb 15 to 28 in Ningbo, Zhejiang province.
The company, which is privately owned by Chinese tycoon Li Shufu, delivered 45 of its Emgrand-branded cars to the meeting's committee on Monday.
Forty of those cars are EC8 models that will serve as officials' VIP limousines. The other five are EC7s for media use.
Also produced by Geely, TX4 taxis modeled along the lines of London's black cabs for the disabled, will join the meeting fleet.
"The choice of Geely for such an international event represents a groundbreaking milestone for China's struggling homegrown auto brands," said Liu Ge, a senior economic researcher and commentator at China Central Television.
"Being the official car will not only improve the brand awareness but also boost consumers' confidence in the vehicles."
Ma Yu, a senior researcher with the Chinese Academy of International Trade and Economic Cooperation (affiliated with the Ministry of Commerce), also noted the importance of selecting domestic brands as official cars for national-level events.