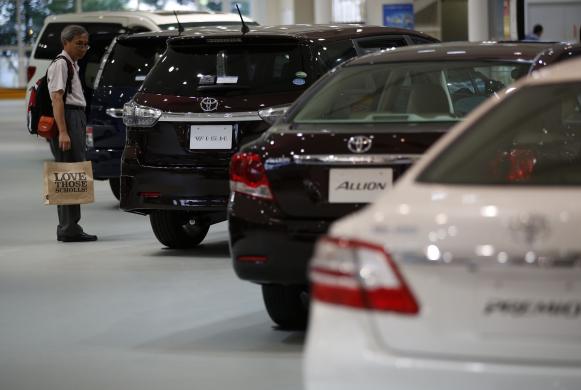 A visitor looks at Toyota Motor Corp's cars at the company's showroom in Tokyo August 1, 2013. [Photo/Agencies]
Toyota Motor Corp plans to curb daily vehicle output in Japan by 15 percent in April from a year earlier as it adjusts for a dampening of demand from a national sales tax rise, a source familiar with its production plans said on Tuesday.
The tax hike to 8 percent from 5 percent is widely expected to spur a pickup in consumer spending before it goes into effect on April 1, followed by a temporary slump when it kicks in.
The tax increase, engineered by the previous opposition administration but given final approval by Prime Minister Shinzo Abe and urged by IMF officials and global credit ratings agencies, aims to rein in Japan's huge public debt even at the risk of slowing the economy in the short term.
Toyota plans to manufacture around 12,200 vehicles a day in the month of April, down 15 percent from a year ago, the source told Reuters.
In January, the world's biggest carmaker has planned daily production up 4 percent year-on-year while February and March output are planned to rise 3 percent, the person added, speaking on condition of anonymity because the production plans are not made public.
Toyota spokesman Naoki Sumino said the company does not disclose its monthly production plans.
The Nikkei business daily reported that Toyota planned to make around 12,000 vehicles daily in Japan in April.
Toyota announced last week that it would trim full-year production in Japan this year by 6 percent to 3.15 million vehicles.
Toyota executives have said that a decline in sales following the tax hike would be inevitable.
"Of course we adjust daily run rates," said a company official with knowledge of the matter. "I wouldn't read too much into it."
The company's president Akio Toyoda said this month that he wanted to limit the duration of the tax hike's hit to sales to no more than three months.
"We want to make it so that from July we can see an upturn in the mood," he told reporters.
The tax increase, which will help pay for rising healthcare costs, has prompted consumers to bring forward purchases of homes, cars, other durable goods and luxury items before they become more expensive.