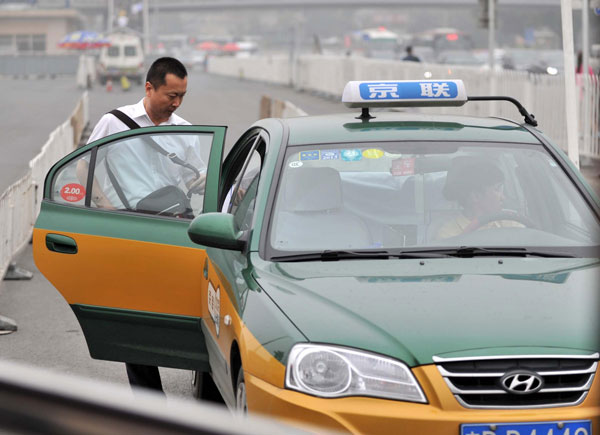 A man takes a taxi near Beijing Railway Station, June 6, 2013. [Photo/Xinhua] 
The wrestling match for market share between Alibaba Group Holding Ltd and rival Tencent Holdings Ltd never seems to end.
After launching similar mobile chatting apps and moving into the mobile gaming industry one after another, the two Chinese Internet giants started off the new year sparring over the taxi-booking sector.
In early January, the Tencent-backed Didi Dache launched a campaign under which it will invest 200 million yuan ($33 million) to promote itself. Anyone who books a taxi through Didi Dache will get 10 yuan off the fare. The driver will get 10 yuan, too. Up to 10,000 passengers a day will get a free ride.
Within days, Kuaidi Dache, a taxi-booking app that has a partnership with Alipay, Alibaba Group's e-payment arm, announced a more generous offer: Users get a rebate of 10 yuan for every taxi ride they pay for using Alipay Wallet, the mobile app of Alipay.
Taxi drivers will get 15 yuan for each trip. The daily free ride quota is 10,001, just one more than Didi Dache's.
Behind the hot competition lies a cold fact: China's booming taxi-booking app industry depends on capital injections with no profit-generating business model yet.
A "hidden" factor in the battle is players' ambition to establish their "territory" for mobile payments, said Lu Jingyu, an analyst at iResearch Consulting Group.
"There are considerations for both companies to push into online-to-offline services, as more Chinese use smartphones to access the Internet.
"But, more important, it is about securing as many people as possible who pay through their mobile devices," said Lu, adding that mobile payments are a significant factor for any player wishing to rise to the top in the era of the mobile Internet.
United States-based online car-booking firm Uber, which launched one of the first mobile taxi-booking applications, has announced plans to enter the Asia-Pacific market.
Uber will launch booking services in 14 cities across India, China, Malaysia, the Philippines, South Korea, Singapore, Australia and Japan. Whether Uber can turn a profit in China remains to be seen.
Media reports said that Alibaba invested the equivalent of several million dollars in Kuaidi Dache in the first half of 2013.
Didi Dache received a new round of $100 million in funding in January. Out of the $100 million funding, Tencent injected $30 million. In May 2013, Tencent gave $15 million in funding to the company.
Kuaidi Dache held 41.8 percent of the taxi-booking app market, and Didi Dache held 39.2 percent in the third quarter of 2013, said Lu from iResearch.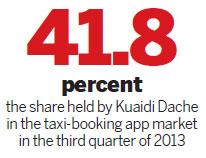 The heavy investment may not generate returns in the near future, but what Alibaba and Tencent care most about isn't profit but leadership in the mobile payment market in China.
The mobile payment market is becoming huge, according to statistics from the Beijing-based research firm Analysis International. Total transactions through mobile devices surged 173 percent in the third quarter of 2013 from the previous quarter.
Zhang Meng, an analyst with Analysys International, said that Alibaba's Alipay Wallet is the current market leader in China's mobile payment market, with about 100 million users.
But with Tencent making efforts to move into the sector by integrating payment functions into the company's dominant mobile chatting app, WeChat, it is hard to say that Alibaba enjoys an edge.
"Most of the people who use Alipay Wallet are those who want to make transactions and then pay their credit card bills. But as a social networking app with more than 400 million users, WeChat's users are more likely to buy things such as cinema tickets that they would enjoy offline," Zhang said.
She said the "context" for people to use Alipay Wallet is limited. "That's why Alipay teamed up with Kuaidi Dache to create a context for people to use the payment application," Zhang said.
"However, given the deep pockets of both companies, the duopoly in the taxi-booking app market may last for a long time," she said.