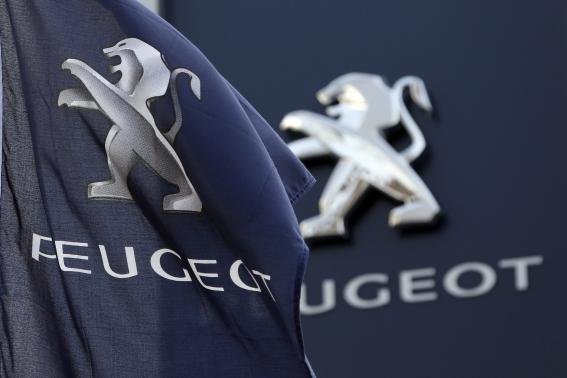 A flag with the company logo is seen outside a Peugeot automobile dealer in Paris December 13, 2013. [Photo/Agencies]
French carmaker PSA Peugeot Citroen has taken a decisive step towards a tie-up with China's Dongfeng Motor Co as the board approved the outlines of a contentious survival plan that divided the founding Peugeot family.
In a blow to Chairman Thierry Peugeot, who had championed an alternative plan, the board agreed in principle to a capital increase that would see the Chinese state-owned carmaker and French government acquire minority stakes and the family cede control, sources familiar with the matter said on Monday.
Peugeot confirmed in a statement that it was looking to raise 3 billion euros ($4.1 billion) in a deal with Dongfeng, after unveiling a further 4.9 percent decline in global vehicle deliveries for 2013 earlier on Monday.
The French government would subscribe to the share issue "on the same terms and conditions as Dongfeng", Peugeot said, an assertation later confirmed in a joint statement from French Finance Minister Pierre Moscovici and Industry Minister Arnaud Montebourg.
The company's shares fell 11 percent on news of the board decision to press ahead with the planned deal, which would dilute existing shareholders.
Peugeot has said it will need fresh funding to stay competitive and is pursuing talks on a deeper relationship with Dongfeng, its existing partner in a Chinese joint venture.
The two carmakers have been in discussions for months to extend cooperation to other Asian countries, backed by a multi-billion-euro share issue in which Dongfeng and the French government would acquire significant stakes.
Peugeot, one of the worst casualties of a six-year European market slump to a two-decade low, is expected to confirm next month that it burned through about 1.5 billion euros in cash last year in addition to restructuring costs.
Peugeot said its plan would raise capital in two stages, starting with a reserved capital increase in which Dongfeng and the French government would acquire matching stakes.
Both would then acquire more shares in a broader issue to the market.
With market conditions showing signs of improvement, Thierry Peugeot had pushed an alternative deal replacing the French government's role with a bigger market issue, potentially allowing the family to remain the biggest shareholder, a source with knowledge of the matter said.
The Peugeot clan currently controls the carmaker through a 25 percent stake commanding 38 percent of voting rights.