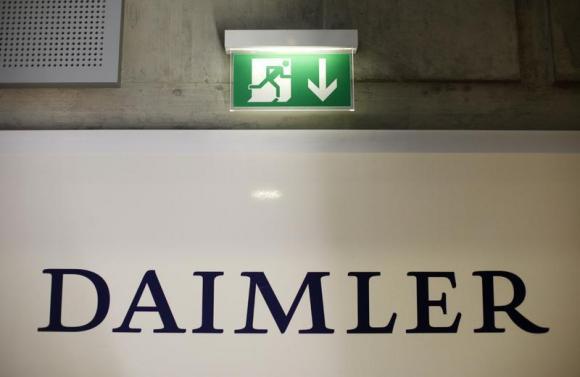 An emergency exit sign is pictured above a logo of German car manufacturer Daimler AG, before the annual news conference in Stuttgart February 18, 2010. [Photo/Agencies]
Chinese carmaker BAIC Motor, part-owned by Daimler AG, plans to raise up to $2 billion in a Hong Kong initial public offering, hoisting its target as China's auto industry purrs to solid growth.
Fueling BAIC Motor's ambitions, the world's biggest auto market is moving toward a second year of double-digit sales increases. A year ago, in the early planning stages, BAIC Motor's target was closer to $1 billion.
Thomson Reuters publication IFR reported on Friday the listing will come in the second quarter of 2014, citing sources familiar with the plans.
If successful, BAIC Motor's deal would be among the world's top five IPOs by value in the auto industry, according to Thomson Reuters data. Most major players have been publicly listed for decades.
The sale will provide fresh impetus for the Hong Kong financial industry's own recovery. Advisory firm PwC estimates Hong Kong IPOs could raise $32.2 billion in 2014, the highest since 2010 and nearly double the 2013 tally of $17.1 billion.
BAIC Motor's ambition also reflects confidence that Hong Kong investors will buy into companies with strong growth prospects. In the city's biggest listing so far this year, tycoon Li Ka-shing's Power Assets Holdings Ltd plans to raise $3.6 billion in an electricity business IPO.
This year's expected strong showing in China's auto market will be spurred an anticipated array of economic stimulus measures, as well as robust demand for cars in smaller cities in interior regions, according to industry executives and analysts.
Daimler ambitions
BAIC Motor is the passenger car unit of ambitious state-owned Beijing Automotive Group (BAIC). In November, high-end German auto maker Daimler sealed a deal to buy a 12 percent stake in BAIC Motor for 640 million euros ($871 million) to boost its China presence and secure a foothold before the long-expected IPO.
Daimler's Mercedes-Benz brand is now the smallest of the big three German luxury carmakers, after BMW and Volkswagen's Audi, because of difficulties in cracking the China market. Daimler's rivals together dominate the global market for high-end saloons and sports-utility vehicles.
The listing could fund Beijing Automotive Group's ambition to join the ranks of SAIC Motor, Dongfeng Group and FAW Group as the government tries to consolidate the industry and form globally competitive companies.
The parent of BAIC Motor and Daimler didn't return requests for comments on the IPO.
Beijing Automotive Group's sales jumped 19 percent last year, exceeding two million vehicles for the first time. It has been actively expanding through acquisitions as it aims to almost double annual output capacity to four million vehicles by 2015.
The fast-growing group last year acquired two small local players, and said it was seeking to buy "a mid-to-high-end European auto brand" to accelerate global expansion.
Its passenger car unit BAIC Motor has joint ventures with both Daimler and South Korea's Hyundai Motor and also sells its locally created brand, Senova. It offers a wide spectrum of vehicles, ranging from premium sedans and low-end cars to SUVs and commercial vehicles.
Goldman Sachs and Morgan Stanley have been working on the BAIC IPO since 2013.
BAIC Motor has now added Citic Securities International, Deutsche Bank and HSBC to the roster of banks managing the deal after a pitching process for mandates last month, IFR said.