Double-digit gain beats forecast, but slowdown seen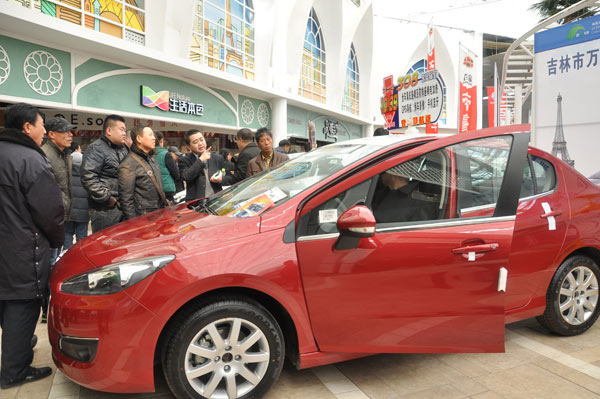 Visitors at an auto show in Jilin province. The China Passenger Car Association said on Wednesday that 17,183,622 passenger vehicles were sold in the country last year. [WANG MINGMIN / FOR CHINA DAILY]
After virtual stagnation for two years, passenger vehicle sales in China surged 17 percent in 2013, which beat industry expectations of a single-digit rise.
But analysts forecast the sector to see a slowdown this year as restrictions on vehicle sales in more cities go into effect as the government tries to curb pollution.
The country sold 17,183,622 cars, sport-utility vehicles, multipurpose vehicles and minivans last year, the China Passenger Car Association reported on Wednesday.
"It's far higher than government expectations, and resulted without central regulation during the year," said Rao Da, the secretary-general of the association, who added that "it helped support China's more than 7.5 percent GDP growth".
He noted that in the last quarter, panic consumption over vehicle purchase limitations in more cities helped drive sales in the city clusters in the Beijing-Tianjin-Hebei region, the Yangtze River delta and the Pearl River delta.
Data showed passenger vehicle sales hit a new consecutive monthly record in November and December, which hiked total sales for the year to 17 million vehicles.
In December, sales surged 16.2 percent year-on-year and 11.2 percent from the previous month, with a record 1,814,492 units.
Rao predicted that the trend will continue in January with year-on-year growth of more than 20 percent.
However, the purchase limitation policy in more cities, which also increases vehicle usage costs, may drag on market growth.
"We see a more than 12 percent year-on-year growth for 2014 if there are no big policy changes," Rao said.
Namrita Chow, a senior analyst with IHS Automotive, a consulting firm, agreed that restrictions on the number of vehicles to be sold will limit new vehicle sales growth, although total sales are still forecast to rise in 2014.
"IHS Automotive anticipates stronger growth this year for total light vehicle sales, 76 percent of which will be contributed by passenger vehicles, to rise 11.76 percent year-on-year to 20.77 million units," Chow said.
The central government issued several mandates to cut pollution in 2013. These include restrictions on new vehicle sales.
"The effect, as predicted, will see a sudden surge in sales of new vehicles prior to the restrictions coming in. Once the restrictions are in place, new-vehicle sales will slow down," Chow said.
Tianjin is the latest major city to announce restrictions to be implemented this year, which resulted in a surge of sales in December.
The city joins Beijing, Shanghai, Guiyang, Shijiazhuang and Guangzhou, which also saw restrictions implemented. And more cities are expected to follow suit.
According to the China Passenger Car Association's forecast, vehicle sales in Tianjin will be cut by 200,000 units this year, while Beijing will lose sales of at least 90,000 units from the previous year.
But Chow said that despite the restrictions, "sales will still see annual double-digit increases in the passenger vehicle market as new car buyers will continue to demand vehicles for personal mobility".