Schumacher combined peerless driving skill with ruthless aggression to become F1's greatest champion
From a young driver with a delinquent temperament to the all-conquering 'Red Baron' of Formula One, Michael Schumacher has long been the undisputed king of the circuit.
A ruthless competitor, Schumacher won an unprecedented 91 races and seven world titles - including five in a row with Ferrari from 2000 to 2004.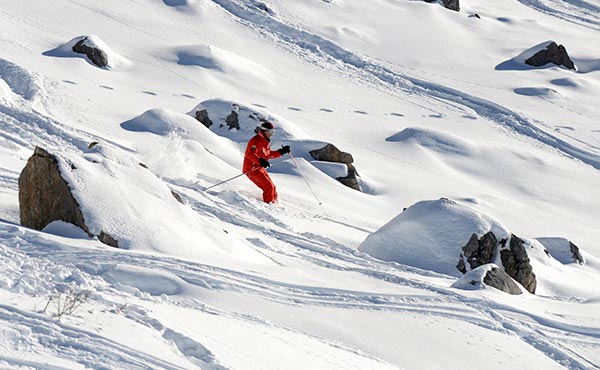 A man skis in the French Alps resort of Meribel, next to the rocky section between two slopes where retired Formula One legend Michael Schumacher sustained a brain injury in a crash on Sunday. [Jean Pierre Clatot / Agence France-Presse]
But despite his peerless record on the track the German, who turns 45 years on Friday, remains a figure of controversy because of his win-at-all-costs attitude.
Schumacher remained in an induced coma in Grenoble, France on Wednesday after brain surgery following an accident while skiing off course with his 14-year-old son, Mick, on Sunday.
Long-time rival David Coulthard believes that only now can Schumacher receive the long overdue recognition he deserves for his stunning achievements.
"For years Michael was the perfect pantomime villain: German, of course, ruthlessly efficient, ultra-aggressive," wrote Coulthard in the Daily Telegraph.
"He was marked down by some, including me, as a tainted champion. But you cannot argue with his achievements.
"At the end of the day he had the same rules and the same race marshals as the rest of us. And he destroyed us."
Schumacher retired in November 2012 holding every major statistical benchmark: most world titles (seven), wins (91), poles (68), fastest laps (77) and races won in a single season (13).