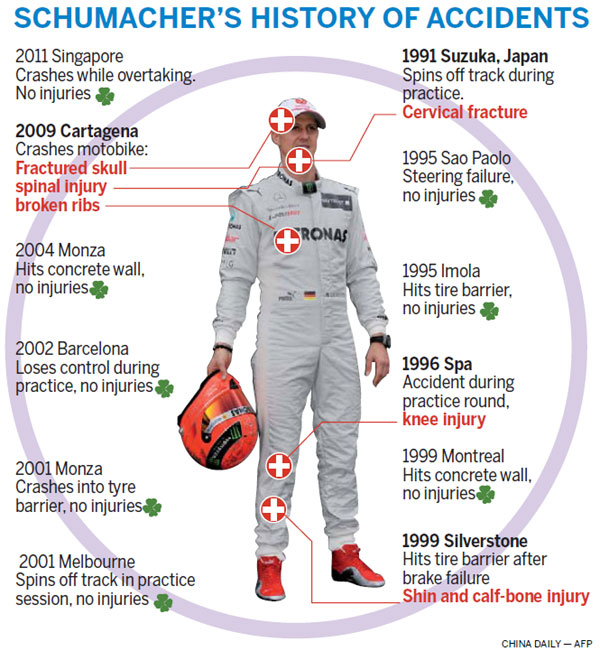 Schumacher's injury could have been much worse without headgear
Michael Schumacher's helmet almost certainly saved his life and leisure skiers should always wear head protection, said the man behind the main safety measures in alpine skiing.
"Without a helmet, Michael Schumacher would be dead," Guenter Hujara, men's alpine skiing World Cup director, said on Monday.
Seven-time Formula One world champion Schumacher suffered serious head injuries in a crash skiing at the French resort of Meribel on the weekend. On Monday night he was listed in critical condition by doctors in Grenoble.
"Schumacher's injury is of the same sort as those suffered in recent seasons by (Switzerland's) Daniel Albrecht or (Austria's) Johan Grugger," said Hujara.
"They were seriously injured but they came out of it and went on to live normal lives.
"Schumacher didn't go as fast as they did so he has a good chance. Athletes have the strength to overcome such bad times."
But Hujara, who was one of the first ski officials to wear a helmet while at work and also wears headgear when riding his bicycle, warned all leisure skiers they should be inspired by the precautions taken by the professionals.
"Every leisure skier should be told to watch what the pros are doing. The pros wear helmets, so they should wear a helmet as well. In the case of a crash, in 50 percent of cases, a serious injury can be avoided thanks to the helmet."
Overseeing men's alpine skiing since 1991, Hujara took charge of the sport the same year Austrian hopeful Gernot Reinstadler was killed in training on the Lauberhorn course in Wengen.
Since then, he has introduced several measures to increase safety by installing two sets of safety nets on the courses, improving the quality of the snow and allowing back protection in downhill as well as braces for the knees, the most frequently injured part of the body in skiing.
Tougher rules
Super-G world champions Ulrike Maier and Regine Cavagnoud died on their skis in 1994 and 2001 respectively, and even though few deaths have occurred in recent years, serious accidents still are a part of the sport, especially in the speed events like downhill and Super-G.
The most serious recent crashes involved Albrecht, who remained in a coma for three weeks after crashing in training in Kitzbuehel in January 2009, and Grugger, who was seriously hurt on the same course two years later.
Both had to give up skiing.