Epic sojourn for China-made MPV
Updated: 2013-11-04 08:11
Three buddies take a road trip to Lisbon and back in a Wuling
Soon after his MPV left the border town of Manzhouli in Inner Mongolia, Zeng Qiang noticed Russian drivers slow down.
He later found out his vehicle plate looks similar to those on a Russian police car.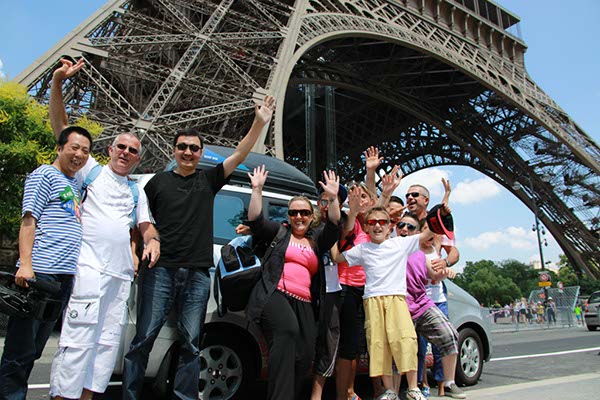 Zeng Qiang (third left) and his friends received a warm welcome in Paris. Photos Provided to China Daily
What the Russian drivers also didn't know is that a group of Chinese guys were making a trans-continental tour in their China-made vehicle.
Zeng, a wealthy used-car dealer in Lishui, Zhejiang province, and his two friends decided in May to drive a Chinese car across Central Asia and Europe to Lisbon, the Portuguese capital, and then back.
What Zeng drove was a Wuling Hongguang MPV produced by SAIC-GM-Wuling, a three-way joint venture between General Motors, SAIC in Shanghai and Wuling in Liuzhou, Guangxi Zhuang autonomous region.
The vehicle departed from Lishui, crossing the Yangtze River Plain, the Greater Xing'an Mountains and then on to Siberia, the Ural Mountains, the eastern European plains, and all the way to Lisbon.
It returned by passing through Gibraltar, crossing the Alps, and the Kazakh hills. After driving more than 40,000 kilometers across 23 countries on the 114-day round trip, the team arrived at Lishui in early September.
Zeng said the total cost of the journey was about 400,000 yuan ($64,516), mainly spent on petrol, food and accommodation.
Even though none of the three buddies on the adventure speaks any foreign language, they were warmly welcomed and guided by both foreign and Chinese people in different countries, especially those also from Lishui now in Europe.
From casual talk
Zeng said the bold journey arose from a conversation in a coffee shop in their hometown.
"We wanted to use real action to show the world the fast development of China-made cars. With proper care, maintenance and driving, they are fully capable of enduring all weather and all terrain environments in the world," Zeng said.
"At the beginning, domestic vehicle dealers thought we were crazy when we asked them whether they could supply parts and offer services for our planned journey. Many managers under different brands told their staff to not even bother to talk to us, which made me really upset," he said.