GM says China partnership with SAIC strong
Updated: 2013-10-28 10:53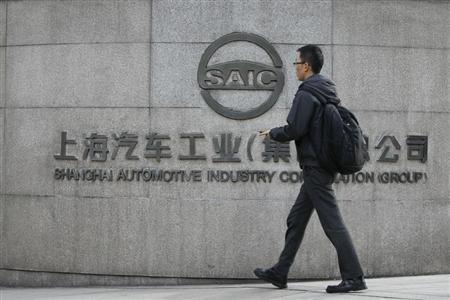 A man walks in front of SAIC in Shanghai. [Photo/Agencies]
Shanghai - General Motors Co has dismissed speculation its ties with China's SAIC Motor Corp are fraying, saying the partnership is thriving and the two car makers are discussing further collaboration in Indonesia.
Recent independent moves by SAIC outside China had been seen by some industry insiders and experts as signaling the two companies might be drifting apart, but GM's top China executive said it was merely a consequence of its state-owned partner's growing maturity as an automaker.
"The relationship between SAIC and GM has never been better," GM China Chairman Tim Lee said in an interview.
Within China, Lee and GM China President Bob Socia said sales by GM's joint ventures with SAIC and others were likely to grow this year by 300,000 to 3 million vehicles.
Roughly half of the volume would come from no-frills microvans GM produces with SAIC and another partner.
According to the two executives, GM plans to launch more new or significantly redesigned models in China next year, including a key small car update next year. It also plans to further grow exports of jointly designed and produced cars out of China.
To keep up with demand, GM China and SAIC are rushing to open four new plants - two along the country's prosperous east coast and another two in the middle western region of China to add an additional 1 million cars a year to capacity by 2015.
"It's a big bet" with SAIC, Lee said.
Lee, who is also GM's global manufacturing chief, recently agreed to give up his broader responsibility as head of GM's international operations to focus just on China.
"The conclusion that (GM Chief Executive) Dan Akerson and the board came to was China is so important to us and the relationships within China are so important" that GM needed to have Lee focus on China, he said.
Southeast Asia market
Despite the expansion in China, some industry experts have suggested a cooling of ties between GM and SAIC elsewhere.
In 2010, SAIC became a 50-50 partner in GM's operations in India, jointly selling Wuling microvans under the Chevrolet badge. At the time, officials at the US firm described the alliance as an ideal way to break into other emerging markets, pointing to Southeast Asia as a possible second target.
Last year, however, SAIC passed on an opportunity to inject more capital into the struggling operation, letting its stake decline to 9 percent. Moreover, SAIC also announced plans to start making cars in Thailand with local firm CP Group Co Ltd, in a deal that did not involve GM.
GM's Socia said SAIC's move in Thailand showed that the Shanghai-based company was feeling more confident as a standalone automaker to compete with GM and others in some areas.
"I don't think it's fair to expect everything we do outside of China, we have to do with SAIC and vice versa," Socia said.
Lee said GM and SAIC had never discussed cooperating in Thailand but noted the two companies were still in discussions over Indonesia, a key emerging market with a population of more than 240 million people.
"We've always said we're looking at options and alternatives in Indonesia with SAIC, but we've never (disclosed) what the business model is," Lee said. Options include a deal for GM to do contract assembly for SAIC or a more full-fledged GM-SAIC joint venture. "Those are ... under discussion," he said.
SAIC spokeswoman Judy Zhu agreed the relationship between GM and SAIC was healthy. On Indonesia, Zhu said SAIC was "still learning the Southeast Asia market and exploring possible business opportunities". She declined to elaborate.
No change in China
GM's move to invest in a 7 percent stake in France's PSA Peugeot Citroen and to cooperate on joint projects has been seen by some analysts as a further chill in the GM-SAIC relationship.
GM has said its ties with Peugeot were mainly for Europe, where GM is trying to fix its troubled Opel unit, but the two firms have also talked of exploring opportunities to cooperate in Russia and Latin America.
Before, top GM executives had indicated it would use SAIC as its preferred partner to expand into emerging markets worldwide.
GM's Lee did not elaborate in the interview on GM and Peugeot's effort to cooperate in Russia and South America.
"It's basically a western and central European plan," he said.
Whatever happens outside China, Lee said GM's alliance with SAIC remained key to GM globally, as it tries to tap more demand in the world's biggest market with plenty of gas left in the tank for growth.
Despite recent talk of change, Lee said he thought it unlikely that China would abolish its long-standing policy requiring all foreign automakers to operate in a 50-50 joint venture with a Chinese partner in the foreseeable future.
That would be "a huge, huge sea change move for China Inc. to undertake", Lee said. "It would be years and years before they get to that point."
In the meantime, SAIC will remain "a great partner of ours," Lee said.