Car sales may hit 21.5m units in 2013
China's passenger vehicle sales maintained a stable growth trend in August, making it possible that the country's overall automobile sales will reach 21.5 million units this year, analysts said.
In August, the total sales of cars, multi-purpose vehicles, sport utility vehicles and minivans in China increased 13.3 percent year-on-year to about 1.32 million units, the China Passenger Car Association said on Thursday.
CHINA'S MONTHLY PASSENGER VEHICLE SALES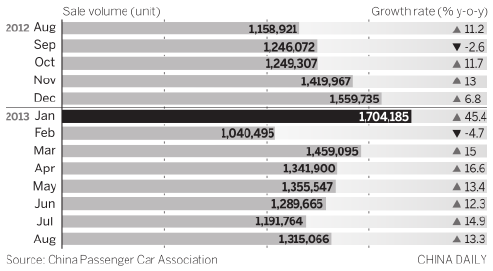 "The figure should be higher but the floods in the south and the super high temperatures in central China hit market demand," said Rao Da, secretary-general of the association.
"The stable uptrend in recent months made us estimate a 12 percent increase in September, thus we are optimistic that China's total vehicle sales will likely also surge by 12 percent to 21.5 million units this year," said Rao.
China overtook the United States to become the world's largest automobile market in 2009. That year, domestic demand surged 46 percent from a year earlier, and the boom continued in 2010 as sales grew 32 percent year-on-year.
However, the market slowed down in 2011 and 2012 with annual growth of 2.5 percent and 4.3 percent, respectively, as the government ceased stimulus measures.
"Now the market's back to around 10 percent growth, and that's an indication that the industry is well on track to a healthy and sustainable long-term development," said Rao.
Even though the country's domestic brands have seen continued market share losses for months because of fierce competition from their foreign and joint-venture counterparts, Rao said that the "domestic brands' heavy investment in R&D will gradually improve the quality and design of their products, and make them attractive to discerning Chinese consumers".
Rao added that the government decision to use Hongqi models for official cars, for instance, will set a good example for private buyers.
The latest figures released by the Chinese Association of Automobile Manufacturers showed that the sales of domestic passenger cars in July slumped 17.3 percent from June, with their market share dropping to 35.2 percent, the lowest point since 2008.
However, Rao said that the domestic brands' market share is expected to increase 1 percentage point every year to reach 40 percent in 2020.
According to a recent survey conducted by market research firm Nielsen Holdings NV, German brands are the Chinese consumers' first choice, with 68 percent of the respondents' preference, followed by Japanese brands with 13 percent.
Chinese brands rank third with the preference of 11 percent of respondents, followed by US brands with 6 percent and South Korean brands with 2 percent.
"Consumer attitudes toward the country of origin of the brands indicate a growing challenge worth the attention of Chinese domestic brands. Compared with foreign brands, Chinese brands still enjoy an advantage over international brands by offering lower costs and more benefits, but the situation is becoming tougher as many international brands are trying to price down their cars to get more market share," said Yan Xuan, president of Nielsen Greater China.
"Though there is a certain gap of core competency against international brands, if more efforts can be made in technology innovation, and in the promotion of their competency in the safety and power-train technology areas, Chinese domestic brands will have more opportunities to convert potential buyers into actual buyers in the future," said Alice Yu, vice-president of Nielsen China.
Also, "the building of a brand image should be based on the segmentation of the Chinese automotive consumers, whether men or women, younger or older", said Yu.