New Mercedes E-Class launched in Chengdu
Hubertus Troska, chairman and CEO of Daimler Greater China Ltd and Xu Heyi, Party secretary & chairman of Beijing Automobile Group Co Ltd, together celebrated the 10th anniversary of the strategic partnership between Daimler and BAIC Group.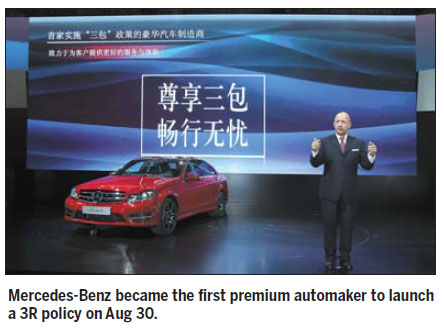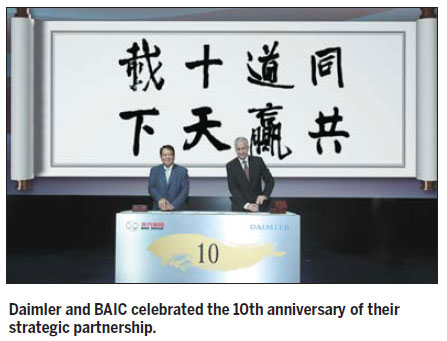 Troska and Xu jointly sealed an inscription symbolizing the two partners' strong cooperation.
"Today we are celebrating the 10th anniversary of our successful and trusted partnership with BAIC, being a win-win relationship for both partners," said Troska.
"Earlier this year, our already strong cooperation was significantly deepened with the establishment of our joint venture Beijing Mercedes-Benz Sales Service Co Ltd," he said.
"Built in China, for China, the new E-Class fully represents Daimler's confidence and commitment to the Chinese market," he added.
Xu fully agreed with Troska, saying that, "With mutual trust and support, BAIC and Daimler have forged a strong strategic partnership and achieved tremendous success through a decade of sincere cooperation. This not only supports Daimler and Mercedes-Benz' development in China, at the same time, it also improves the core competitiveness of BAIC in the industry and accelerates our international approach".
"Not only is this honor a perfect way to commemorate the 60th anniversary of China's automotive industry's development, but more importantly, it serves as inspiration for the future growth of BAIC, Daimler, and China's auto industry as a whole," said Xu.
"As the world's most prestigious executive limousine, the new E-Class is tailor-made for those who make up the backbone of modern China and those dedicated to working for the country's economic development," said Nicholas Speeks, president & CEO of Beijing Mercedes-Benz Sales Service Co Ltd.
"Offering two distinct models and a wealth of possible configurations, Mercedes-Benz has again shown its commitment to satisfying the increasingly diverse needs of its Chinese customers," Speeks added.
"Since BMBS officially began operations in March this year, we have been progressing step-by-step and day-by-day, and in July we posted 30 percent year-on-year growth. With the launch of our pillar model the new E-Class, the further expansion of our dealer network and a host of enhanced customer services, we are determined to continue Mercedes-Benz' sustainable and long-term growth in China," said Speeks.