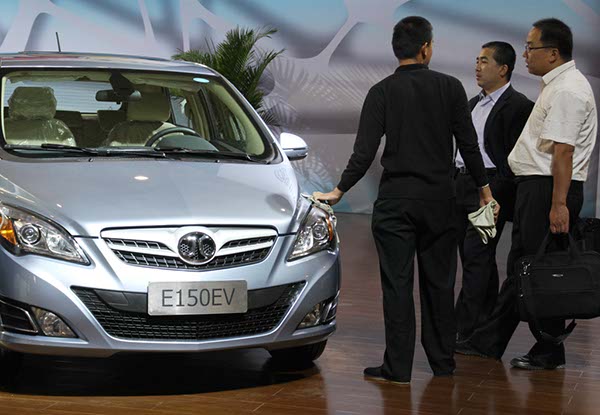 BAIC Motor's E150EV electric cars are now offered to selected buyers at low cost. [Photos Provided to China Daily]
Low-cost rentals and subsidized purchases to help boost market
As electric vehicles become more widely used in public transportation, some local governments are moving a step further and promoting their private use.
Among the initiatives is a rental outlet for all-electric cars that recently opened in a science park near Tsinghua University in Beijing.
Part of the "EV Beijing Partnership" program by the Beijing Science and Technology Commission, the station offers 16 electric cars made by BAIC Motor at a lease price of 49 yuan for two hours or 99 yuan per day or 1,999 yuan per month.
The station is also equipped with charging facilities.
According to the commission, the response has been "impressive".
Fifteen of the cars have been rented not for hours or days but for months and about 2,000 applicants are now waiting for the service.
The commission had to specially arrange one car for short-term rental so that more people can try the service. And it plans to build more such rental outlets in the city with no fewer than 500 electric cars put into service within the year, it added.
Analysts said the cost is usually high to buy an all-electric vehicle, but rental services "greatly lower the threshold".
In Shanghai, the first 50 electric Roewe cars made by SAIC Motor were available for rent from the end of June from 1hai, the city's largest auto leasing company. Most of the cars rent for 150 yuan a day.
According to domestic media reports, Hangzhou in Zhejiang province and Hefei in Anhui province also have similar rental services.
Ultimate goal
The ultimate goal of the EV Beijing Partnership is not to just rent cars, but to create opportunities for customers to experience the vehicles and help them make the decision to buy one, the commission said.
Another approach by the commission is to look for 500 candidates as the first private buyers of all-electric cars in Beijing.