Investment by Chinese automaker to provide 'hundreds of jobs' in US
Billboards along Southern California's Antelope Valley Freeway read "Lancaster welcomes BYD", heralding the opening of a bus factory by the Chinese maker of electric vehicles and batteries.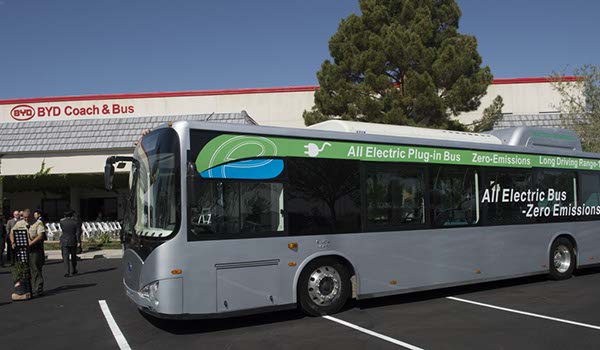 A BYD K9 all electric plug-in bus parks in fornt of the BYD factory on May 1, 2013 [Photo / Xinhua] 
BYD Co on Wednesday became the first company from China to announce it will produce vehicles in the United States. It plans to build as many as 1,000 plug-in electric buses a year at a refurbished recreational-vehicle factory in the Mojave Desert city of Lancaster.
"We truly are making history," Lancaster Mayor R. Rex Parris said. "Our community looks forward to working hand in hand with BYD as they develop and perfect their e-bus and energy-storage technology."
He said the manufacturing could potentially provide hundreds of jobs as BYD expands operations in the US and represents "a significant investment into our local economy and in California".
At a news conference outside the new plant, BYD Motors President Stella Li said the first of 10 zero-pollution vehicles has already been ordered by the city of Long Beach and is expected to roll off the assembly line in 2014.
She said BYD Motors expects to produce 50 buses a year by 2015 and to continue increasing production, with the intention of reaching the plant's capacity of 1,000 buses annually within two decades.
The buses will be powered by BYD's iron-phosphate batteries, which will be manufactured at another plant near the Lancaster bus factory.
At the news conference, Li described the run-up to the opening of the company's first plant in the Americas.
She said the relationship began in 2009, when company executives were introduced to city officials by Michael Antonovich, a member of the Los Angeles County Board of Supervisors, and Bill Allen, president of the county's Economic Development Corp.
"We have been extremely impressed with the resources of LA County and the leadership shown across many cities, including Los Angeles, Long Beach and Lancaster," Li said.
"We were pleased to initiate this vital partnership with BYD, the county and the city of Lancaster and look forward to its continued success with two new world-class manufacturing facilities that will create jobs and enhance the economic vitality here in the Antelope Valley and throughout the region," Antonovich said at Wednesday's news conference.
The announcement caps a years-long effort to build a plant that promises "economic prosperity and environmental sustainability", Allen said.