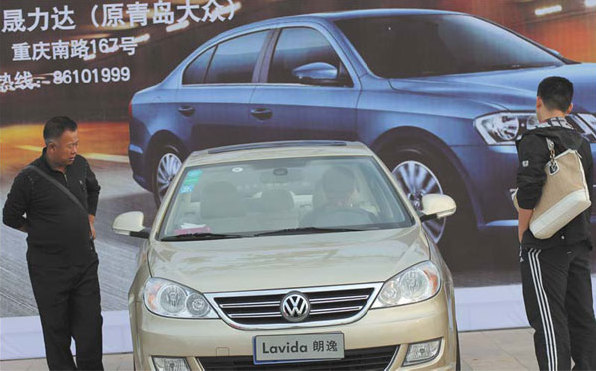 Visitors examine the Volkswagen Lavida at an auto show in Qingdao, Shandong province, last October. Passenger vehicle sales have been higher than expected in the first quarter, and the Lavida topped the list of best-selling passenger cars in March. [Photo/China Daily]
Slight jump over February, but yearly forecast stays the same
Following weak performance in February, China's light vehicle sales grew 11 percent month-on-month in March, to 2 million units. Year-to-date sales rose by 15 percent, to 5.44 million units.
Passenger vehicle sales were higher than expected in the first quarter, up 19.1 percent year-on-year, while light commercial vehicles faired relatively poorly, up only 4.7 percent in the first quarter to 1.42 million units.
The annual projection based on March figures increased moderately, up 2.6 percent from the previous month to 20.1 million units. The projection based on first-quarter figures reached 21.16 million units for 2013.
The best-performing segment, locally produced SUVs, surged by 43 percent in the first quarter thanks to a series of highly anticipated product launches.
Locally built luxury car sales jumped 38 percent in the first quarter, which was mainly attributed to incentives provided by dealers.
Sales of Japanese brands improved in March compared to the previous month, but as a whole, sales still declined 14.8 percent year-on-year.
The sales of some previously top-selling models - Toyota's Camry and Nissan's Teana, Livina and Tiida - have been sluggish due to generation shifts or new facelifts.