Editor's note: China is the seventh country Hubertus Troska has served in for his career with Daimler AG, however, it's also the first one outside of Germany, for which he takes charge of all of the company's business operations.
The executive is fully aware that China is the key if his company wants become number one in the world.
The chairman and CEO of Daimler Greater China feels more positive, excited and inspired than challenged in the world's largest and fastest growing vehicle market.
He told China Daily reporter Li Fangfang that he is ready to help bring the company to the next level in China.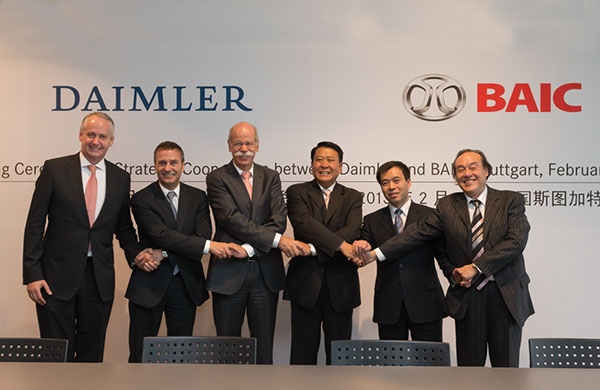 Daimler AG to invest in Chinese partner BAIC Motor for a 12 percent stake. Both parties formally signed the relevant contract in Stuttgart's Mercedes-Benz Museum on Feb 1, 2013. [Photo / China Daily]
Q: After taking this position for 100 days, what's your impression and view on China's automotive market as well as the local business environment ?
A: My general perspective on China is very positive and inspiring. Here is where you have to be! The local economy grows steadily, and the vehicle market increases tremendously.
It's clear that China is not just the world's biggest car market since 2009, but will also be the most important premium car market very soon.
Though the government is taking measures to limit vehicle registrations and raise emissions standards to ease environmental and traffic problems, people are still talking about double-digit increases in China. Whereas some markets in Europe present negative growth. Compared to other markets, China is and will be the key engine to drive the automotive industry to further growth in the future.
Q: What have you learned so far from your Chinese colleagues, what inspires you?
A: I just came here around 100 days ago, and so far the biggest challenge for me is learning the Chinese language, which I believe is the first step to understanding the culture and people.
For our future success it is essential to understand the Chinese culture and Chinese automotive market, but just as importantly we also need to understand the government's direction as well as our joint venture partners.
I have more than 25 years of experience with Daimler. And I have seen a motivated, diverse and well experienced team here. I am confident that we can benefit from this diversity in culture and experience.
Q: Do you feel any challenges or difficulties from operating such a huge and complicated company, as your predecessor brought Daimler into a new stage in China during his term, by having the full product line-up and completing all operations?
A: Today Daimler is the only global car company that covers all auto segments in China. For me this is an excellent point to start working for the future. And I am certain I can help bring the company to the next level.