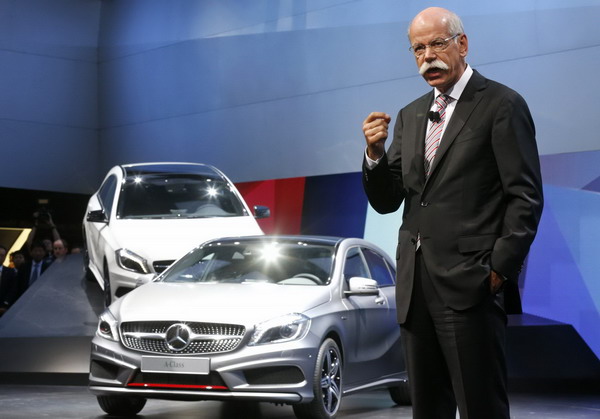 File photo of Daimler AG CEO Zetsche next to new Mercedes-Benz A Class model at the Paris Mondial de l'Automobile. [Photo / Agencies]
Daimler extended the contract of its chief executive by only three years in a gesture to investors concerned that rival premium carmakers are winning the race for global leadership.
59-year-old Dieter Zetsche, who wants Daimler to overtake BMW and Volkswagen to become the world's biggest premium carmaker by the end of the decade, had been expected to get five more years.
Since Zetsche took the helm seven years ago, Daimler's stock has risen just over 2 percent. During the same period, BMW shares nearly doubled in value while the European auto sector jumped by more than half.
Two sources familiar with the matter told Reuters on Thursday that the supervisory board decided at the last minute to grant Zetsche only a three-year deal in a bid to calm critics.
They fear Daimler's luxury Mercedes Benz brand is losing out to Volkswagen's Audi and BMW, particularly in the important Chinese market.
A Daimler spokesman said the board decided to extend executive contracts by three years if the manager had already turned 60 years, or would do so during the course of the contract.
BMW has a long-standing policy that its top executives retire when they turn 60.
Zetsche will receive a new deal valid through the end of 2016, making him one of Daimler's longest-serving CEOs if he fulfils the contract.
Profit warnings
The head of equities at DWS, Germany's largest retail fund manager, welcomed the decision to extend Zetsche's contract for only three years.
"Unlike at Volkswagen or BMW, the management team at Daimler has seldom met their guidance in the past years and therefore repeatedly has been forced to warn on profits, and yet they still talk about being the number one," Henning Gebhardt said.
Daimler missed its original profit target last year by 10 percent, or roughly 1 billion euros ($1.3 billion), and said a weak first quarter would mean earnings would stagnate this year. It also scrapped its 2013 margin goal for Mercedes.
"Daimler's stock has outperformed its close peers only twice over the past twelve years. Something fundamental needs to change in other words, and it is hard to imagine the same leadership would suddenly make different decisions," Credit Suisse analyst Erich Hauser said.
Part of the problem, Hauser suggested, is that no large Daimler shareholder, such as Kuwait, has a seat on the supervisory board like either the Quandt family does at BMW or the Porsche and Piech clans at Volkswagen.
In another surprise, Mercedes production and purchasing chief Wolfgang Bernhard will swap jobs with his colleague Andreas Renschler and take over as head of Daimler Trucks as of April.
Daimler Chairman Manfred Bischoff praised Zetsche's "ability to combine a feeling for cars with sound engineering knowledge and an entrepreneurial approach."