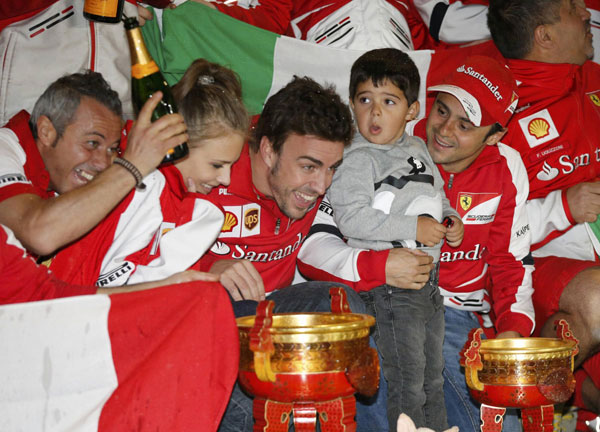 The Ferrari Formula One team celebrates with drivers Fernando Alonso of Spain (C) , Felipe Massa of Brazil (R) and Massa's son Felipinho (2nd R) in front of their garage after the Chinese F1 Grand Prix at the Shanghai International Circuit, April 14, 2013. Alonso roared to a dominant victory in a highly strategic Chinese Grand Prix on Sunday to give Ferrari their first win of the Formula One season and put the pressure on champions Red Bull.  [Photo/Agencies]
Raikkonen of Lotus and Mercedes' Hamilton hold on for second and third
While everybody was talking about the feud between Red Bull drivers Sebastian Vettel and Mark Webber, Fernando Alonso of Ferrari snuck by and claimed the 56-lap Chinese Grand Prix on Sunday - his second title in Shanghai.
The victory catapulted the Spaniard back into the title hunt on a day when points leader Vettel could only manage fourth behind runner-up Kimi Raikkonen in his Lotus and third-placed Lewis Hamilton (Mercedes).
Alonso said he was delighted to get his season back on track, as he had to retire in Malaysia last month. The two-time world champion was second, behind Raikkonen in the season-opening race in Melbourne.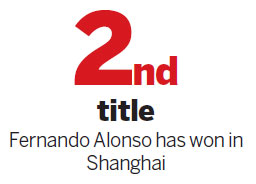 "It feels good. It is a long time since my victory here eight years ago," said Alonso, who narrowly lost out on the world title to Vettel last season.
"It was not easy to understand this race sometimes not an easy race. The risk is there when you overtake," he said.
"This is a good reward for the team after the disappointment in Malaysia. Let's hope this is now the start of the championship and we need to keep going like that."
For Webber, it was not a good weekend at all, even worse than the last stop in Malaysia.
At the Malaysian Grand Prix last month, Webber led until world champion teammate Vettel ignored instructions to not overtake and denied him victory.
In Shanghai, Webber didn't have the chance to race close to Vettel as he had to start from pit lane because Red Bull failed to put enough fuel in his car for Saturday's qualifying.
What was worse for the Australian was that he only ran 18 of the 56 laps, during which he pitted twice and broke the front wing of his car in a collision with Jean-Eric Vergne of Red Bull-owned Toro Rosso.
Due to the collision, Webber will have to drop three places on the grid for next weekend's Bahrain Grand Prix.
Webber ran into the side of Vergne's car as he attempted to pass the Frenchman on lap 15. The Australian was forced to pit with front-wing damage and subsequently retired when the right-rear wheel came away from his car. Vergne went on to finish 12th.
"I think Mark could not have got through from where he tried and I'm not even sure if he was trying to pass me," said Vergne. "Certainly I didn't even know he was there. Unfortunately, the impact put me into a spin and the incident damaged my floor. From then I lost a lot of downforce. It was not a good race from then on."
Hamilton's lead from pole position lasted only briefly. In lap five as Alonso activated his DRS on the home straight. However, Hamilton held off a charging Vettel at the line to earn a second podium finish for his new team.
"It was a good race for me today, and whilst I would have loved the win, I'm really happy with third place and being on the podium for the second race in a row," said the Briton.
"Fernando and Kimi were just a little bit too fast for us during the race and my tires were shot at the end trying to keep ahead of Sebastian. I could see his car getting bigger and bigger in my mirrors, so it was nice to be able to hang on for third place.
"The guys did a great job this weekend to get us where we were; on pole and finishing third. We got the absolute most out of the car we had and that's very satisfying. We're not quite there yet in terms of overall pace but everyone is working so hard and I know we can do it."
Results in Shanghai GP: 1. Fernando Alonso (ESP/Ferrari) 305.066 km in 1 hr, 36 min, 26.945 sec (average speed: 189.779 km/h); 2. Kimi Raikkonen (FIN/Lotus) at 10.168; 3. Lewis Hamilton (GBR/Mercedes) at 12.322; 4. Sebastian Vettel (GER/Red Bull Racing) at 12:525; 5. Jenson Button (GBR/McLaren) at 35:285; 6. Felipe Massa (BRA/Ferrari) at 40:827
Overall standings: Drivers: 1. Sebastian Vettel (GER) 52.0 pts; 2. Kimi Raikkonen (FIN) 49.0; 3 Fernando Alonso (ESP) 43.0; 4. Lewis Hamilton (GBR) 40.0; 5. Felipe Massa (BRA) 30.0; 6. Mark Webber (AUS) 26.0. Constructors: 1. Red Bull Racing 78.0 pts, 2. Ferrari 73.0, 3. Lotus 60.0, 4. Mercedes 52.0, 5. McLaren 14.0, 6. Force India 14.0, 7. Toro Rosso 7.0, 8. Sauber 5.0.