New Development Bank aims to double loans
The New Development Bank, a multilateral institution established by BRICS countries, hopes to nearly double its 2016 lending this year in an expansion that is forecast to range from $2.5 billion to $3 billion, according to K.V. Kamath, the bank's president.
The bank is planning to raise funds by issuing bonds in India, denominated in the local currency, the rupee, after it issued renminbi-denominated bonds in China in 2016.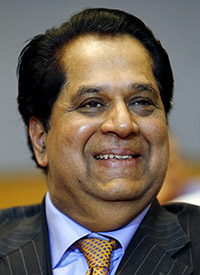 K.V. Kamath, president of the New Development Bank. [Photo provided to China Daily]
The bank has approved seven projects, which is a rapid and sound start for an organization that started slightly more than a year ago, Kamath said. BRICS is an association of five major emerging economies-Brazil, Russia, India, China and South Africa.
"In 2017, predominantly we'll aim at taking up more lending tools and to raise another $2.5 billion for projects spreading over our member countries that are sustainable and do economic good. Virtually, we will try to double the lending of 2016 this year," he said. Kamath, 69, was a veteran banker before joining the NDB.
The bank's focus is meeting the huge infrastructure needs of its member countries, which also is the key to its expansion plans.
"What we are doing here at NDB is only a small fraction of the need. Beyond lending, we would like to act as a catalyst, to get more parties involved in the lending process for projects that contribute to economic growth and sustainability," he said.
Major challenges for the bank lie in the changing global economic situation, which is seeing interest rates rise in developed countries. But developing countries' fast economic growth will help to offset the effects, said Kamath.
"A large part of global economic growth is driven by the members of this bank, the BRICS countries. More than two-thirds of global incremental economic growth comes from our five member countries, particularly India and China. As Brazil, Russia and South Africa start growing faster, which I am sure they will, more opportunities will be brought in," he said.
Kamath also called the China-led Belt and Road Initiative a sound economic program that brings benefits across several countries by investing in a significant way and creating economic momentum. "The program also brings synergy, making regions come together all along the Belt and the Road," he said. "We see it as something that will clearly spur economic activity in the region, and we think that the program is going to succeed."
The seven projects approved by the bank's board of directors in member countries amount to more than $1.5 billion. All projects are coherent with its mandate of supporting infrastructure projects, with more than 75 percent of projects dedicated to infrastructure that will provide such renewable benefits as energy generation, Kamath said.
The bank received an institutional rating of AAA from China Chengxin Credit Rating and China Lianhe Credit Rating. The bank also is in discussions with international rating agencies regarding future projects.