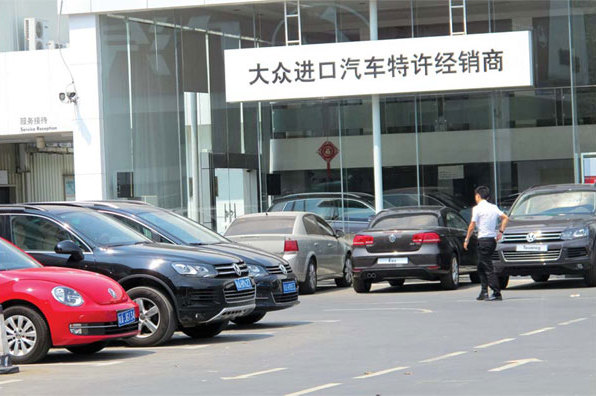 A Volkswagen dealership in Haikou, Hainan province. The German automaker will begin a recall in April for both imported and domestically made vehicles. [Shi Yan / For China Daily]
Follows a warning by watchdog over its touted DSG transmission
German automaker Volkswagen Group last week announced its biggest recall ever in China to fix problems on its much-touted direct shift gearbox.
The company said in a statement that it will recall 384,181 vehicles equipped with the seven-speed DSG transmission beginning in April to replace the mechatronic unit and upgrade software.
Affected vehicles include several imported models as well as a wide range of locally produced cars, mostly made from 2009 to 2012 at Volkswagen's two joint ventures in China.
The company said that electronic malfunctions in the mechatronic control unit or low oil pressure inside the gearbox may result in a power interruption "in isolated cases". It noted that the recall will "effectively solve" the problem.
All vehicles produced and now on sale and those in dealer stock are not affected by the problem, the company said.
Troubled four years
The long-awaited recall came after consumer complaints about the DSG transmission over the past four years. Problems include abnormal noise, excessive shift shock, shift failure, with the worst reported problem sudden power interruption without warning and rapid acceleration when the power returns.
Though the complaints began as early as in 2009, Volkswagen only began free services at its dealerships in March last year, when it offered a software update. The company then announced in May it would extend the warranty on DSG transmissions in China to 10 years or 160,000 km - up from the previous four years or 15,000 km - to restore consumer confidence in the technology.
But some car owners complained that after the software update, the old issues remained while new problems like weaker performance and higher fuel consumption emerged.
Some customers said that it is more important to completely solve the problem and eliminate the potential risk of power interruption than to extend warranties, noting that otherwise it is like "driving a car with a time bomb".
The DSG problem received widespread exposure on the State-owned broadcaster CCTV on March 15, World Consumer Rights Day.
On March 16, the General Administration of Quality Supervision, Inspection and Quarantine - the nation's quality watchdog - said on its official website that it has informed Volkswagen it should launch a recall and will force the carmaker to do so if it doesn't fulfill its "legal obligation".
China implemented a new regulation on auto recalls at the beginning of the year that sharply raises penalties for automakers found hiding defects and avoiding recalls. The heaviest penalty is loss of production permits.
Huge cost
The cost of Volkswagen's recall will be "huge" and will certainly affect the company's business performance in China this year, said John Zeng, director of LMC Automotive Asia Pacific Forecasting.
He said that the price of one mechatronic unit is about 3,000 yuan. Replacing the unit on more than 380,000 cars will cost over 1 billion yuan in hardware alone, with additional expenses in labor and logistics.