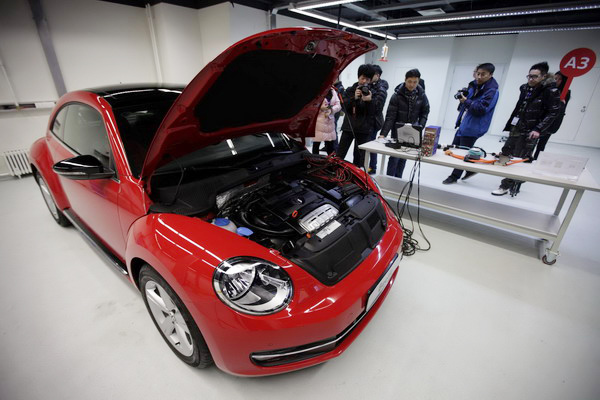 A Volkswagen vehicle is introduced during a media tour at the opening ceremony of a new Audi China building in Beijing, Feb 1, 2013. [Photo / Agencies] 
Volkswagen, Europe's biggest carmaker, plans to almost double production capacity in China over the next five years to grab a bigger slice of fast-growing emerging markets and offset declining demand at home.
The German company said on Thursday it aimed to have the capacity to make over 4 million vehicles in China, already its largest market, by 2018.
Volkswagen, which delivered around 9.1 million vehicles in total last year, has said previously it hopes to snatch the global sales crown from Toyota Motor Corp in 2018.
"VW's future is increasingly being decided in China, Russia, India, the Americas and Southeast Asia," Chief Executive Martin Winterkorn said as the company published its annual report. "This is where we will generate most of our growth in future."
Carmakers across the world are relying on emerging markets for growth amid a protracted slump in recession-hit Europe, which if anything has got worse in recent months.
VW said last month, alongside its 2012 results, that growth in group operating profit might stall this year due to weakness in Europe, which would be the first time group earnings have not risen for four years.
In the annual report, which gave details on 2012 results for the first time, the company said operating profit at its main VW brand fell 4.1 percent to 3.64 billion euros last year despite higher sales, reflecting big discounts to lure European buyers.
The VW brand, which provides almost a third of group earnings, also saw western European deliveries drop 11.6 percent in the first two months of this year.
"We have to really put our shoulders to the wheel and give our very best," Winterkorn said. "The environment is definitely a tough challenge, especially for European car makers."
Operating profit at VW's two Chinese joint ventures, in contrast, surged 42 percent last year to 3.7 billion euros.
VW has said previously the ventures would spend almost 10 billion euros ($13 billion) through 2015 on new plants, products and technologies.
The company said on Thursday it would set up a new assembly plant in southern China, adding to the dozen component, engine and production factories it already has in the country.
It also has another three assembly plants and two component facilities starting operation in 2013.
With 10.6 billion euros in net cash resources, VW is open to making acquisitions, Winterkorn told Reuters in an interview, noting "there are always opportunities one cannot pass up".
The company, which counts luxury-division Audi and Czech unit Skoda among its twelve brands, last year boasted the highest ever pretax profit for a German listed company at 25.5 billion euros, mainly due to a revaluation of its holding in sports-car maker Porsche that was fully acquired last August.
Despite headwinds in Europe, Winterkorn expects sales and deliveries to grow this year, noting group vehicle sales in the first two months rose 8.3 percent to about 1.4 million vehicles.
VW said operating profit at Czech division Skoda fell 4.2 percent to 712 million euros last year, while the loss at Spanish brand Seat shrank by a third to 156 million euros.
At 11:15 am EDT, VW shares were down 1.4 percent at 164.62 euros. The stock has outperformed the STOXX Europe 600 autos index .SXAP by 10 percent over the past year.