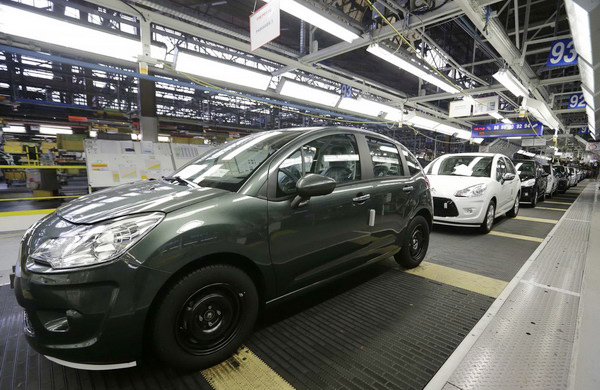 Citroen C3 automobiles are seen on the idled assembly line as striking employees prevent their colleagues from working at the PSA-Peugeot Citroen plant in Aulna, Feb 5, 2013. [Photo / Agencies] 
Carmakers are going back to the drawing board in the hunt for fuel-saving technologies as hopes that electric vehicles will be the silver bullet for CO2 emissions look increasingly forlorn.
There is a growing awareness that conventional hybrids and slow-selling battery cars simply won't be enough to meet rigid EU emissions limits.
Among those showing off new ideas at the Geneva auto show this week, Volkswagen presented its diesel-electric XL1 - a low-slung two-seater that burns less than a liter of fuel per 100 kilometers - while PSA Peugeot Citroen rolled out a compressed-air hybrid.
Automakers are broadly on track to meet the interim goal of trimming vehicles' average CO2 output to 130 grams per kilometer by 2015. But drastic steps are needed to meet the 95 gram target set for 2020 and the potential for tougher standards after that.
"We can't get the necessary gains we need with traditional technology any more. We're seeing a real break with the past," Peugeot innovation chief Jean-Marc Finot said in an interview.
Arthur Wheaton, automotive expert at Cornell University, offers a succinct summing up of the problem. "Battery technology has not been able to resolve the century-old problem of too much weight and limited range capability," he said.
Despite the billions spent by the likes of Renault-Nissan to develop electric cars, optimism about their future has "dampened considerably", KPMG said in a survey in January.
U-turns
World leader Toyota, which launched the Prius hybrid in 1997, dropped plans for broader sale of the battery-powered eQ last September, saying it had misread demand.
GM's Opel scrapped plans for a fully electric Adam subcompact, citing high costs, while VW's luxury Audi brand shelved the electric R8 coupe and Nissan slashed the price of its Leaf after disappointing sales.
"Demand for electric cars isn't where we thought it would be," said Francois Bancon, Nissan's upstream development chief. "We're in a very uncertain phase, and everyone's a bit lost."
For automakers battered by Europe's prolonged market slump, the investment costs are a big concern. Several have joined forces to develop new technologies, most offering some degree of "hybridization" of combustion engine and electric power.
"By now we would have seen a standardization based on the pure electric car if it had turned out to be the solution," said Guillaume Faury, Peugeot's executive vice president for research and development. "That's why we're seeing so many micro-hybrids, mild hybrids, full hybrids, rechargeable hybrids, range extenders and battery cars."
Another response has been to shrink engines, removing cylinders and adding turbochargers to maintain horsepower.