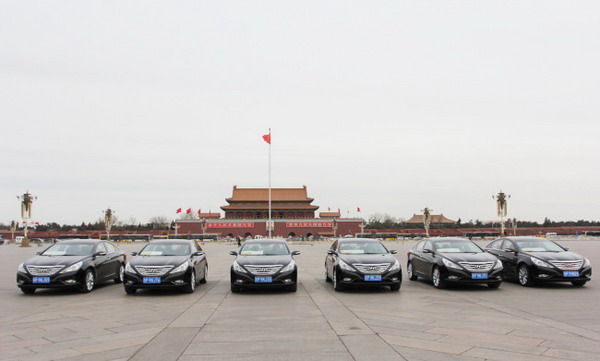 Hyundai Motor's Sonata sedans are displayed on Tiananmen Square in Beijing. [Photo / asianewsnet.net] 
Hyundai Motor now seeks to appeal to the most trend-setting group of people in the all-important Chinese market - the Communist Party leaders.
The Korean auto giant said Wednesday it has provided some 50 units of its flagship midsize sedan Sonata to transport Party leaders during China's two most important political gatherings this week.
Following the Sunday opening of the Chinese People's Party Consultative Congress, the 12th National People's Congress started Tuesday in Beijing, with Chinese President Hu Jintao and General Secretary of the Communist Party Xi Jinping in attendance.
The Sonata cars were offered to ranking officials such as representatives coming from each province, joining the race among carmakers to attract media attention.
"Our car provision to China's most important political events for two consecutive years reflects our enhanced brand awareness and product quality there," said an official of Beijing Hyundai, a 50-50 venture that the Korean carmaker established together with local partner company Beijing Automotive Co.
"We knocked the market first with taxi vehicles and now aim to appeal to Chinese elites for premium image."
Hyundai's strategy is the same one that Germany's Volkswagen, one of the first global carmakers that entered the Chinese market, adopted decades ago to raise its brand awareness there. It was the first to provide cars to Party leaders, with its luxury Audi sedans, in particular, being given to top elites.
Beijing Hyundai, taking advantage of the car provision and recent sales momentum in China, will step up efforts to provide its premium sedans for official use of high-ranking government officials, the company said.
The Sonata sold more than 100,000 units in China last year.