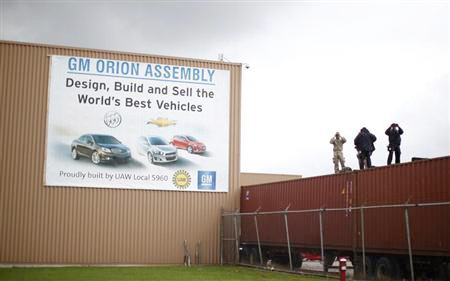 File photo of a security detail keeping watch at General Motors Orion Assembly plant as US President Barack Obama arrives to tour the facility with South Korean President Lee Myung-bak in Detroit, Michigan. [Photo / Agencies] 
General Motors Co said it would invest $7.3 billion in its South Korean unit over the next five years - an amount which will likely help relieve concerns that the US automaker was set to reduce its presence in the country.
Fears of output cuts and layoffs had grown after GM said it was interested in gaining full control of GM Korea by buying a 17 percent stake from the unit's second-biggest shareholder, a move that was seen as possibly paving the way for restructuring steps.
Those worries intensified after GM Korea said late last year it would not build its next-generation Chevrolet Cruze small car in South Korea.
But GM said its 8 trillion won investment in improving manufacturing and engineering capabilities underscores South Korea's importance as a key production and development base, even if the domestic market is relatively small.
"GM Korea will continue to play a major role in our global growth plans," Tim Lee, head of international operations at GM, said in a statement.
GM Korea, which has five manufacturing facilities in South Korea, said it will produce six upgraded versions of GM models currently built, including global mini, small and midsize cars. It reiterated it will build GM's first global full battery electric vehicle.
South Korea exports Chevrolet-branded cars to Europe and other regions and accounts for about a quarter of GM's Chevy production globally. It also has design and engineering centers in South Korea, which have developed the Spark and Aveo mini cars and the Trax sport utility vehicle.
GM Korea reiterated a plan to double the size of its design center at its headquarters in Incheon by the end of this year, making it GM's third biggest after the United States and Brazil.
GM, which is the No 3 automaker in South Korea after Hyundai Motor Co and its affiliate Kia Motors Corp, aims to nearly double its South Korean market share to 20 percent for the mid- and long-term.