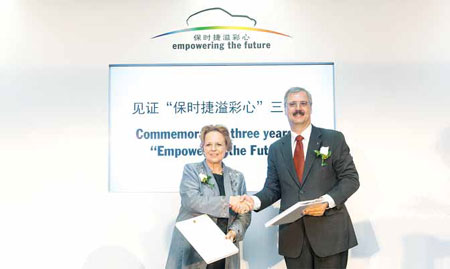 Gillian Mellsop (left), UNICEF representative to China, and Helmut Broeker, chief executive officer of Porsche China, shake hands after signing a letter of intent to integrate the early childhood development into their partnership. [Photos Provided to China Daily]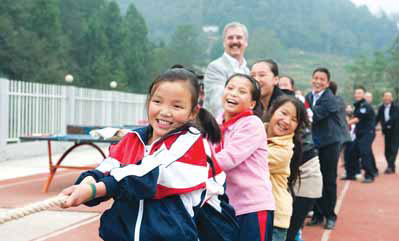 Children involved in the Empowering the Future initiative play tug-of-war with Porsche China CEO.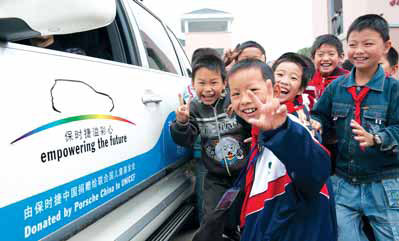 Rural pupils welcome a Cayenne SUV carrying items donated to their school.
Helmut Broeker, chief executive officer of Porsche China, said he strongly believes that the new extension of Porsche China's Empowering the Future initiative will help support more young Chinese people in remote areas, with programs targeting different age group.
The Porsche initiative is a cooperative effort with the United Nations Children's Fund, commonly known as UNICEF.
To commemorate the German luxury vehicle brand's third anniversary of implementation of the corporate social responsibility initiative in China, Porsche said in June that it will add the Integrated Early Childhood Development program to its partnership with UNICEF.
Initially focusing on young children in the provinces of Sichuan and Guizhou, the program will provide a comprehensive package of services and support for children under 3 years old.
"Our current education program is designed for children from 6 to 15 years old in primary and junior high schools, and our artist program is for young college art students 18 to 25 years old," said Broeker.
"As we continue to support the development of children in these rural areas, we realize that we must do more than support schools and formal education. We must help children from an even earlier age," he said.
Porsche will make an initial donation of four Cayenne SUVs and contribute a total of 23 million yuan ($3.6 million) for a three-year period.
"It's a new chapter in which we plan to significantly improve early childhood development outcomes in the Chinese government's designated 'poverty battlegrounds'," said Gillian Mellsop, UNICEF representative to China.
"Integrating critical services in health, education, nutrition and parenting for the youngest children is a highly effective strategy for breaking the inter-generational cycle of poverty once and for all," said Mellsop.
While as the fastest growing economy in the world, China has seen an increasing rise in the living standard of residents, there is still a large population of children living in rural regions in need of urgent support and help.
According to UNICEF, less than half of Chinese children between the ages of 3 and 6 are in kindergarten or pre-school. Around 30 million children under the age of 6 have no opportunity for early education.
Porsche aims to provide comprehensive services, including high-quality psychological care and pre-school education to 8,000 children under age 3 in 160 villages in the two provinces.
And their families will also receive professional guidance with regard to childcare and teaching. Furthermore, pregnant women are also included in the project, allowing them to take a prenatal examination so that the health of their children is guarded before they are even born.
Roots in Sichuan quake
Broeker said he still remembers the severe quake on May 12, 2008, "I felt a big shakeup in my office in Shanghai when the Wenchuan earthquake happened.
"That evening I read the newspapers and realized the massive devastation (caused by the quake). China will need a lot of support for this.
"And then I found children are most affected, so we donated 5.4 million yuan to the UNICEF. Later, we thought this should not be a one-off (event), and we decided to make it a continuous program for children's education in Gansu and Sichuan and later in Yunnan provinces," said Broeker.
"Porsche started working with us in 2009 in the aftermath of the Wenchuan earthquake when there was a desperate need to ensure that the most-remote, disaster-affected schools would continue to receive critical resources and support," added Mellsop.
Porsche launched the Mobile Educational Training and Resource Units program, or METRU for short with UNICEF.
METRU is an innovative program that improves access to quality education for students and teachers in the remote areas of Sichuan, Gansu and Yunnan provinces.
Porsche solidified its strong support for UNICEF by donating funds, vehicles and resources to its educational initiative. The company provided four Cayenne SUVs to UNICEF to serve as METRU in remote areas affected by the devastating earthquakes of 2008.
The cooperation between UNICEF and Porsche has delivered aid throughout four counties in Sichuan and Gansu provinces with an initial donation of 10.2 million yuan and four Cayenne at the very beginning.
As of March 2012, the program has benefited more than 117,000 students and provided training to more than 7,800 teachers from 435 schools.
Modified SUVs
The modified Porsche Cayenne vehicles, with outstanding off-road ability and extensive storage capacity, transport training and teaching resources to disaster-affected areas.
These all-terrain SUVs help bring aid to under-equipped rural teachers, returning a degree of normality to the lives of children in hard-to-reach rural communities.
The Porsche Cayenne SUVs have carried trained staff and other resources, such as teacher training materials and teaching kits, student packs, library resources and sports equipment, to isolated regions along the border of Sichuan and Gansu provinces.
The SUVs withstood difficult conditions and traversed mountainous terrain to reach schools that are normally too isolated to receive regular aid and support.
Psychosocial assistance as well as educational materials for sanitation and health were also supplied, accompanied by experts and support staff from the Ministry of Education.
In 2011, Porsche donated two more Cayenne SUVs and contributed a further donation of nearly 5 million yuan to expand the reach of its assistance to Yunnan.
To date, Porsche China has extended the three-year METRU program to five years, and it now covers three provinces with six Cayenne SUVs.
"This program is a collaboration of efforts by employees, dealers and Porsche China," said Broeker. "We raise funds from warm-hearted employees and dealers, even got donations from our loyal customers and also involve our employees themselves in the program by providing them opportunities to visit our project schools."
As one of the participants, Broeker visited three schools in different areas. "I am emotionally touched by this program," he said. "For this kind of event (earthquake), you have to be there to see it, and you will feel the enormous devastation. And you will better understand the needs of the people.
"I have been to a small city covered by 100 meters of rocks. When I saw that, I felt a personal attachment," Broeker said.
"I was also touched by the children's excitement upon seeing cars of books coming. They painted pictures of Porsche and our cars to show their gratitude. This also enhanced my personal commitment to the program," he said.
"The METRU project was an instant success, delivering crucial support to the most deprived schools situated far from China's thriving economic success zones," said Mellsop.
In these remote areas, support for teachers is minimal and resources for teaching and learning are stretched, she said.
"Think of how many lives have improved for the future. Think of how many children will benefit for years to come from the improved support, guidance and skill building that their teachers have received. And think of how many children and teachers throughout China might benefit from this new model for enriching support for the most remote and underserved schools," she concluded.
Art contest
As another key part of Porsche's program, the Empowering the Future Art Contest is a long-standing philanthropic collaboration between Porsche China and the Sichuan Fine Arts Institute.
The program delivers Porsche's pledge to bring educational support to the youth of China. The contest is designed to recognize and reward talented young artists and, more importantly, it will call for more attention and action to support better education for children and youth in remote areas.
It has been held twice in the past two years and attracted over 300 entries in total. Porsche awarded the top three artists a trip to Germany, where they visited some of the country's most renowned art institutions as well as the Porsche museum in Stuttgart. Additionally, 10 winners received cash prizes.
"We will host the third art contest with the Sichuan Fine Arts Institute this October," said Broeker. "This partnership demonstrates another facet of our commitment to education here because it provides young artists with a platform for nurturing their talent and realizing their potential."
"For Porsche, caring for the underprivileged youth of China is more than only a single act of philanthropy; it is a long-term commitment," said Broeker.
"Just like the rainbow, the key component of our program logo, which represents hope and a bright future for youth education, the essence of Empowering the Future is to have color form a spiritual bridge, connecting with the heart through real actions and strong emotions," he said.
lifangfang@chinadaily.com.cn