Green energy powers grasslands
By Li Xing (China Daily)
2010-11-24 15:08
| | |
| --- | --- |
| | |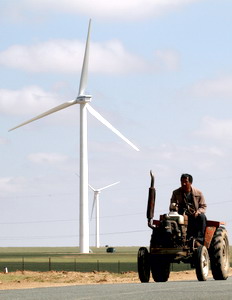 A farmer drives his tractor past wind turbines in Xilin Gol in Inner Mongolia in September. [Photo/China Daily]  
Not long after Wu Liqin got her job with an electrical company in 1982, she was braving sandstorms and grassland hills on a horse cart.
Along with two colleagues, she was charged with fitting 100-watt, wind-powered generators in herders' homes across Xilin Gol league, a prefecture in the Inner Mongolia autonomous region.
"Sometimes, if we were too far away from the nearest town, we'd spend the night with a Mongolian family in a yurt (a traditional tent-like dwelling)," she said.
Despite long hours on the road, she can still recall the surprised faces of herders when they saw the turbines spin and power up their light bulbs.
These small wind turbines continue to spin outside many homes. In the Sonid Right Banner (the equivalent of a county), Liu Jinlian and her husband Zu Shoushan rely on one to power a 9-inch television set and a few light bulbs.
Liu, 53, complained the battery is so old that its storage capacity is limited. "Sometimes the power runs out before we go to bed," she said.
Hata, who lives a short car ride away, does not have that problem. He said his small solar generator provides more than enough for his family. "We can't use all the electricity it produces everyday," said the 55-year-old, who like many Mongolians goes by only one name.
The herders' use of renewable energy is only a tiny part of Xilin Gol's ambition to become a major national supplier of hybrid electricity and contribute to improving China's renewable energy mix.
The central government has pledged to raise the percentage of non-fossil fuels in the country's total energy use to 15 percent by 2020. It was less than 9 percent last year.
It also aims to cut carbon intensity per unit of gross domestic product by 40 to 45 percent by 2020 from 2005 levels.
Wu's job today is to watch a bank of monitors in the control room of the Saihan Zhurihe Wind Farm, which is run by North Power. Outside the compound are dozens of wind turbines over an area of 7.9 hectares.
Construction of the facility began in 1989. Originally it had five wind turbines imported from the United States, each with a capacity of 100 kilowatts. "Now we have 33 turbines, each 1,500 kW," said Wu.
The wind farm, which generated 14 million kW of electricity this year, is one of 23 in operation in Xilin Gol. The largest, with hundreds of turbines already operated by several domestic power companies, is spread over what the Mongolians call Huitengliang, or Grey Cold Hill, which is 450 kilometers north of Beijing.
"When I was stranded on the Beijing-Zhangjiakou section of the Beijing-Tibet highway (the section is prone to traffic jams), I kept asking myself why we (the country) are wasting so much diesel transporting coal from Inner Mongolia to power plants as far away as Jiangsu and Zhejiang (provinces) in the south," said Yu Zhiyun, director of Xilin Gol's development and reform commission.
He said it makes better economic sense if the country takes Xilin Gol, as well as other places in Inner Mongolia with natural resources, as a starting point for a sophisticated system of hybrid power generation and relay.
"We believe Xilin Gol has every advantage to provide a cleaner and inexpensive mix of power for Beijing and North China," said Yu. "The mix of wind, solar and coal is too abundant here to be left untapped."
Through a new ultra-high voltage direct-alternating current transmission network, he added, electricity generated in Xilin Gol can reach Jiangsu and help make power generation greener in the Yangtze River valley, as most of the power plants in East China are coal-fired.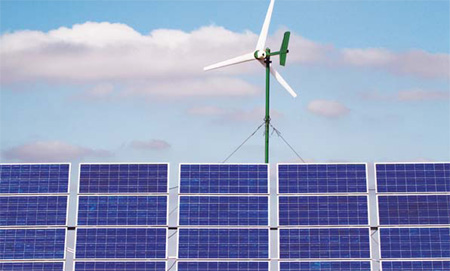 An example of the renewable energy mix of solar and wind power that is employed in the grasslands of Inner Mongolia. [Photo / China Daily] 
A US electronics company invented a charger that draws its power from Wifi signals, according to TGDaily.com.
The "Green Seeds" chewing gum bottle designed by Jiang Gonglue makes it easier for you to deal with gum residue.
A French graduate designed a kettle using an incandescent bulb to heat water, according to dezeen.com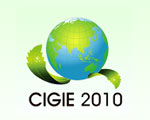 The China International Green Industry Expo 2010 (CIGIE 2010) is an important international green industry exhibition hosted by the Chinese government and held at the Beijing Exhibition Center, Nov 24 to 27.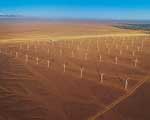 China Wind Power 2010 is the largest and most important international wind power conference and exhibition in China.
TradeWinds Shipping China 2010 moves to examine every important facet of the shipping industry's fortunes.