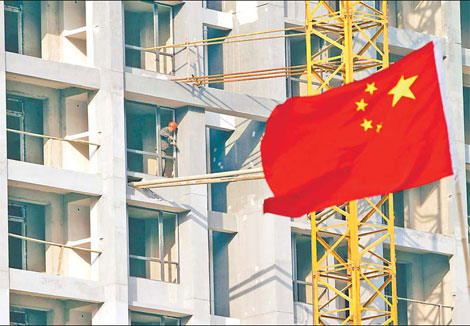 A worker paints a wall at a building under construction in Nanjing. [Photo / China Daily]


Implementation of real estate policy to be checked in nationwide blitz
BEIJING - China's two major ministries in charge of housing development are organizing a large-scale inspection across the country to check the implementation of existing real estate policies, paving the way for a proper adjustment for the next stage.
The joint inspection, carried out by the Ministry of Housing and Urban-Rural Development and the Ministry of Land and Resources, will focus on local government's efforts in ensuring land supply, the construction of economically affordable housing and the cleaning-up of idle land parcels, according to industry sources.
"Such an extensive inspection will also lay the ground for an accountability system for local government," said Lin Lei, marketing chief of the United States-based real estate brokerage firm Century 21st.
According to the latest round of policy tightening, launched in September, local governments will be held responsible for any negligence in the implementation of the central government's real estate policies.
The recent plan from the Ministry of Land and Resources show that the country's land supply will reach 180,000 hectares this year, an increase of 135 percent on the 2009 figures.
For Liao Yonglin, director of the land-usage department at the Ministry of Land and Resources, the nationwide check will help the ministry decide whether to further increase land supply for 2011.
"So far, the land supply plan is going forward as expected," Liao was quoted as saying by China Business News.
Meanwhile, the China Banking Regulatory Commission has set up a special team to inspect the implementation of new mortgage policies in different cities.
Related readings:


China's trust firms halt property loans: Report


Property market set to make soft landing 


Property prices to drop 20% next year: report 


China tells trusts to check property credit: Report 

According to Nie Meisheng, director of the Chamber of Real Estate Developers in the All-China Federation of Industry and Commerce, the country's real estate tightening policy will continue into next year.
"Property developers should not expect the tightening to end in the short term. In fact, it will probably remain a constant factor as the strengthening and improvement of policy will be a keynote in China's 12th Five-Year Plan (2011-2015)," Nie said.
As a result of the continuous tightening, the property market in some cities has shown signs of cooling.
According to the Beijing Property Transaction website, the average price of new projects opened in November fell 20 percent month-on-month to 16,662 yuan ($2,486) a square meter, hitting a six-month low.
But in Shanghai, the trading price of property reversed a five-week drop and rose as high as 21,283 yuan a sq m during the week of Nov 15 to 21, according to report released by the Shanghai-based Uwin Real Estate Research Center.
Compared with first-tier cities, property sales in second- and third-tier cities remain firm.
Han Fei, marketing manger of Shimao Group, said that among four residential projects the company launched in Beijing, Tianjin, Yantai and Shenyang, the sales performance in the latter three cities was better than Beijing.
"The tightening policies' impact on second- and third-tier cities is comparatively smaller, and more investors are now turning their eyes to smaller cities," said Han.