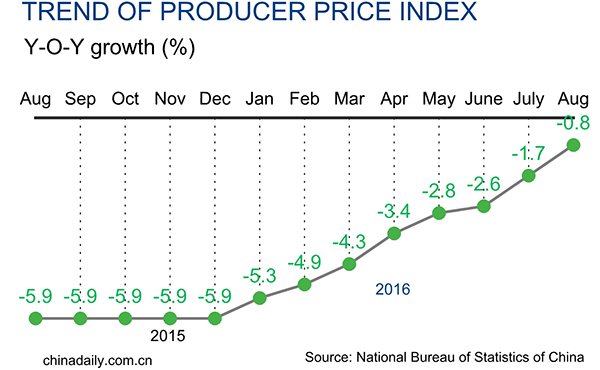 BEIJING - China's producer price index (PPI), which measures costs for goods at the factory gate, posted a milder decline in August due to a low comparison base, official data showed.
The PPI dropped 0.8 percent year on year in August, a narrower decrease than the 1.7 percent in July, the National Bureau of Statistics (NBS) said Friday.
The reading marked the 54th straight month of decline as China's economic slowdown and industrial overcapacity weighed on prices.
NBS senior statistician Yu Qiumei attributed the milder decline to a low base in the same period last year.
Producer prices for ferrous metal smelting and rolling increased markedly faster in August, while prices for nonferrous metal smelting and rolling returned to growth.
In the first eight months of the year, the PPI dropped 3.2 percent year on year.
On a month-on-month basis, August's PPI edged up 0.2 percent.
The PPI figures came along with the release of the consumer price index, which rose 1.3 percent year on year in August, slowing from 1.8 percent in July.