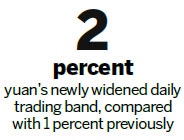 Those speculative moves were adding
liquidity
just as the government was trying to deleverage the economy to pave the way for structural reforms.
"The authorities are trying to increase uncertainty around the yuan outlook," wrote Standard Chartered Plc in a research note.
Liu Ligang, chief China economist with the Australia and New Zealand Banking Group Ltd, wrote in a report that the latest band widening could further weaken the currency in the short term.
But Liu said that the depreciation will be short-lived if there's no fundamental change in the one-way capital inflows, especially when China still has a very sizable current account surplus.
UBS AG said in a report on Monday that the yuan is near equilibrium and the widening won't guide it in a new direction. The bank maintained its forecast that the yuan will hover around 6.1 to the dollar this year.
"We expect two-way fluctuation to intensify after the widening. 'Hot money' inflows will likely wane, and companies and banks will more effectively manage foreign exchange risks, but we don't think that that will directly affect trade and economic growth," said UBS.
Mitul Kotecha, a Hong Kong-based managing director with Credit Agricole CIB, wrote that appreciation pressure on the yuan will return on a likely resumption of capital inflows, and a move back to about 6.00 by end-2014 remains "in the cards".
In the near term, he wrote, it seems unlikely that the authorities will intervene as aggressively to weaken the yuan as they did in recent weeks, with a breach of 6.15 likely to prove short-lived.