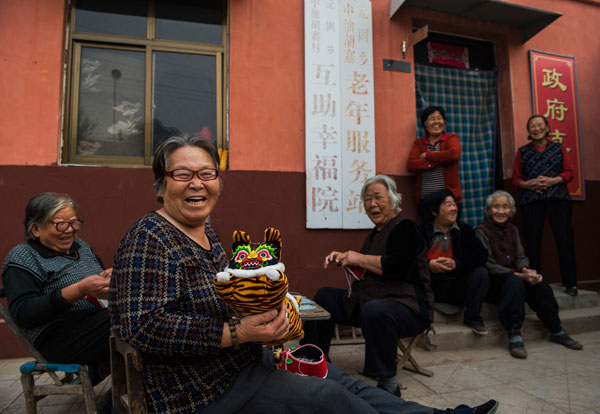 Residents of a home for the elderly in Feixiang county, Hebei province, share a laugh. [Pan Songgang / For China Daily] 
BEIJING - The Chinese government said on Wednesday the country's pension funds account balance is in surplus, a sharp contrast to reports of a possible pension crisis that had led to public concern.
The total balance of funds for registered urban workers, unemployed urban residents and rural residents stood at 3.1 trillion yuan ($506.6 billion) at the end of 2013, of which, 2.8 trillion was the balance for registered workers' pension, said Hu Xiaoyi, vice minister of human resources and social security.
Hu said the total income of pension insurance for registered urban workers reached 2.25 trillion yuan last year while payments stood at 1.84 trillion, creating a surplus of more than 400 billion yuan in 2013.
"The data showed that the account of China's pension funds is in surplus, and we don't face a pension shortfall," Hu told a press conference in Beijing.
The vice minister said that market forecasts last year claiming China would face a pension shortfall exceeding more than 10 trillion yuan by 2013 were groundless.
However, he said because the Chinese population is rapidly aging, authorities will have to make a balance forecast for pension funds in the future, and this requires more comprehensive analyses and precise calculations to help with policymaking.
China has the largest senior population in the world, with 194 million people at or above the age of 60 at the end of 2012, according to the China National Committee on Aging.
Nannie auction bids for domestic bliss