A woman works in a clothing factory in Lianyungang city, East China's Jiangsu province, Oct. 13, 2013. [Photo/Xinhua] 
BEIJING -- China's purchasing managers' index for the manufacturing sector dropped to a six-month low of 50.5 percent in January, according to official data released on Saturday.
January continued December's decline and indicated the lowest factory activity since August while marking the 16th straight month above the boom-bust line, according to a statement jointly released by the National Bureau of Statistics and the China Federation of Logistics and Purchasing.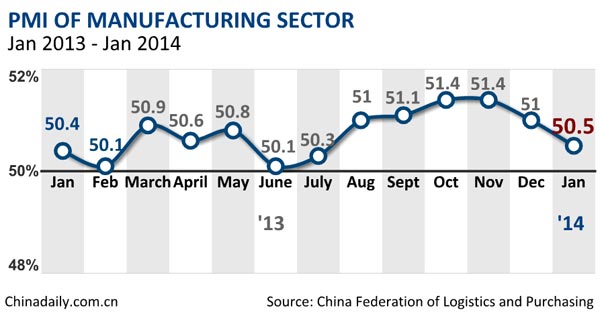 In January, the sub-index for production stood at 53.0 percent, down 0.9 percentage points from December but still 0.2 percentage points higher than last year's average. The sub-index for new orders lost 1.1 percentage points to 50.9 percent, said the statement.
The sub-index for purchase quantity moved down 1.7 percentage points to 51.0 percent in January, while the sub-index for new export orders stood at 49.3 percent, down 0.5 percentage points from December.
A PMI reading below 50 indicates contraction, while one above 50 signals expansion.
Major PMI indexes all declined in January, indicating downward pressure on the economy, but in general, the country's economy is still expecting stable growth, said Zhang Liqun, an analyst with the Development Research Center of the State Council.
Falling new orders showed the growing impact of market demand restraints and enterprise competition and restructuring are expected in the future, Zhang said.
The HSBC/Markit China manufacturing PMI for January dipped to 49.5 from 50.5 in December, the first deterioration of operating conditions in the country's manufacturing sector since July.
Qu Hongbin, chief China economist with HSBC, described the dynamic as "a soft start to China's manufacturing sectors in 2014, partly due to weaker new export orders and slower domestic business activities during January."
Factory activities in January were mainly dragged down by accelerating overcapacity easing and a cut in production ahead of China's lunar new year, said Zhao Qinghe, a senior analyst with NBS.
Almost all January PMI data dropped from December in the past four years, Zhao pointed out.
The sub-index for production and business expectation rose by 1.9 percentage points to reach 51.3 percent, indicating strengthening enterprises' confidence for future economic growth.
Zhao expects an improving business environment for manufacturers and more robust play of market forces as China continues to push new reforms to restructure its economy.
The government has yet to announce its 2014 growth target, which analysts widely expect to be set at 7 percent or 7.5 percent.
Although the headline GDP growth remains stable, analysts expect a further moderation as the focus of the authorities is now turned to forging a more sustainable model and pushing ahead with various reforms.