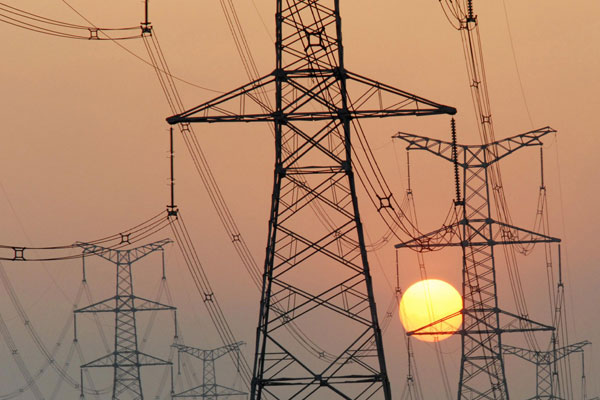 China's electricity consumption rose 7.5 percent year on year in 2013, the National Energy Administration said on Tuesday.[Photo/Xinhua] 
BEIJING, Jan. 14 (Xinhua) -- China's electricity consumption, a key indicator of economic activity, rose 7.5 percent year on year in 2013, the National Energy Administration (NEA) said on Tuesday.
Electricity used in 2013 stood at 5.32 trillion kilowatt hours, according to a statement on the NEA website.
The growth rate is 2 percentage points higher than that in 2012.
The service sector consumed 10.3 percent more electricity than a year earlier, and the industrial sector consumed 7 percent more, while power used by the agricultural sector was 0.7 percent more than a year earlier, the statement said.
Data from the National Bureau of Statistics showed China's economy expanded by 7.7 percent in the first nine months of 2013, higher than the government's full-year target of 7.5 percent.
Figures on China's annual economic performance are due to be released next Monday.
The average operational time of power plants across the country with generation capacity of more than 6,000 kilowatts (kW) dropped by 68 hours to 4,511 hours in 2013, according to the NEA.
New generation capacity added last year stood at 94 million kW, the statement said.
By the end of last year, the country's total installed power generation capacity reached 1.25 billion kW, it added.
Wu Xinxiong, head of the NEA, said the NEA has been mapping reforms to encourage and introduce more private capital into the energy sector.
Reforms will be made mainly in the electricity, oil and natural gas sectors, and energy market supervision and energy safety will be boosted, Wu said at a two-day NEA work conference that ended on Tuesday.