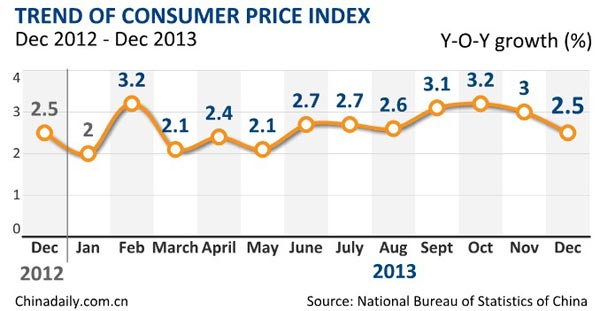 The consumer price index, a main gauge of inflation, eased to 2.5 percent in December, the lowest year-on-year growth since May, the National Bureau of Statistics said on Thursday.
The figure means that CPI growth for 2013 was 2.6 percent, well below the official target of 3.5 percent.
Tang Jianwei, a senior economist with Bank of Communications, said annual growth in food prices slowed from 5.9 percent in November to 4.1 percent in December, a major factor as the price of food makes up the bulk of the CPI composite.
Yu Qiumei, senior analyst with the National Bureau of Statistics, said the year-on-year CPI deceleration was due to a high comparison base in December 2012.
Though year-on-year growth for December 2013 was 0.5 percentage points lower than November's, the month-on-month inflation rate rose 0.3 percent in December, while November's rate dropped 0.1 percent from October.
Food prices in December rose 0.6 percent month-on-month, while in November they went down 0.2 percent.
For 2014, Tang said inflation will be slightly higher than in 2013.
CPI growth will hit a new high mid-year, before tempering in the second half of 2014, he said.
He expected CPI growth for this year to be 3 percent, well under the official target of 3.5 percent.