Alibaba coasts on Singles Day to tech pinnacle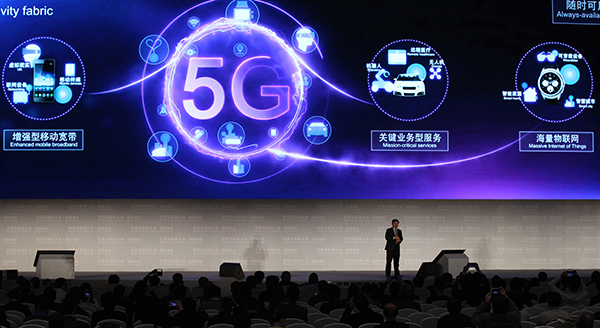 A representative of Qualcomm Inc explains 5G technology to the conference audience on Wednesday. [Photo/China Daily]
The Singles Day (Nov 11, 11-11 or Double 11) shopping festival has not set just a new single-day sales record (120.7 billion yuan or $17.57 billion for Alibaba Group alone) but a new standard for global e-commerce.
Most people see it as a reflection of China's booming consumption power. But a group of internet experts see 11-11 as a triumph of world-class e-commerce technology.
Alibaba had developed its own e-commerce transaction processing platform using a cloud computing system, and can handle a peak 175,000 transactions and 120,000 payments per second, unparalelled on the planet.
So it was only fitting that the third World Internet Conference in Wuzhen, Zhejiang province, should single out Alibaba for praise.
The conference recognized on Wednesday Alibaba's system as one of the world's top 15 "leading internet scientific and technological achievements". It hailed the creative contribution by internet practitioners toward setting up an innovative platform for all-round communication.
It is the first time that the Wuzhen summit has released such a list.
Fifteen tech companies and research institutes across the world have made it to the list with their incredible technologies and breakthroughs. Among them are driver assistance, artificial intelligence, chips and computing.
US tech major Tesla Motors Inc was selected for its newly launched Autopilot 2.0, an advanced driver assistance system that takes fully autonomous driving closer to people's life than ever before.
China's online search major Baidu Inc was recognized for its development of Baidu Brain, an artificial intelligence-enabled project that seeks to vastly improve computing tasks by mimicking the way the human brain operates.
A committee comprising 33 Chinese and foreign luminaries drew up the list. Among them are Wan Gang, minister of science and technology, Wu Hequan, academician at the Chinese Academy of Engineering, and Robert Kahn, winner of the 2004 Turing Award.
Wu, the Chinese director of the committee, said: "The world needs more technological achievements to improve people's lives."
With over 700 million users, China is a big player in the global internet economy. The internet has also spawned an enormous domestic market.