Smooth drive to ultra-smart lots, robot parking valets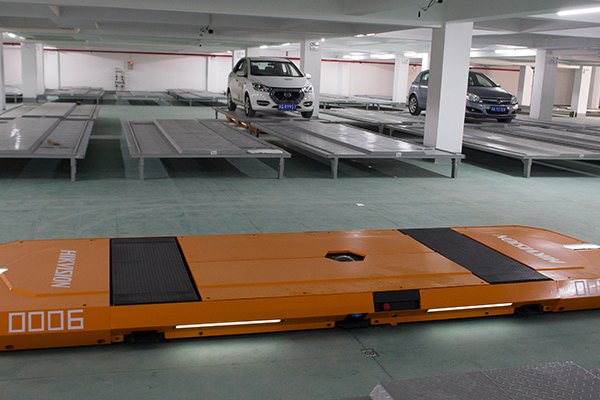 A section of the smart parking system at Wuzhen, Zhejiang province. [Photo/China Daily]
There is now one more reason to be lousy at parking your car at the right lot: a robot can do it better for you.
Hikvision Digital Technology Co Ltd, a supplier of video surveillance products based in Hangzhou, Zhejiang province, has finished the design and production of a smart parking system complete with a robot parking valet.
Hikvision launched the system during the World Internet Conference on Tuesday.
The robot valet can park a vehicle in less than two minutes while the car owner stays totally hands-off.
This is how the system works:
First, the owner drives into the interactive area of the smart car park where optical signs and a monitor show the current parking situation and assist the driver in parking the car precisely on a rack.
Then he can get off the vehicle, walk to the nearby park entrance, and get his parking number using a touch-screen or an app on his smartphone. The smart parking system will confirm with the car owner that the car is powered off, the hand brake is on and nobody is in the car.
The number generated automatically will help the car owner to collect the car later.
The smart parking system determines the best parking lot and the path to that for the robot. The robot parking valet then swings into action and drives the car out of the interactive area and onto the selected parking lot.
At the time of collection, the car owner needs to key in the number generated earlier on the touch-screen, which will direct the smart parking system to dispatch the robot valet to fetch the car to the interactive area.
According to Hikvision, a smart parking system can deal with 500 cars at a time. Use of parking lots available can be increased by 40 percent by optimizing the entire area.
The smart parking system uses 5G technology, or the internet of vehicles, first launched in Wuzhen by Cethik Group, parent of Hikvision, according to Wen Xihua, general manager of smart city business department of the Cethik Research Institute.
Wen said the idea of a smart parking system evolved from computerized logistics of modern warehouses. The company spent six months in the design and development of the smart parking system, and integrated the quick response or QR code technology into it. The system is now applicable to both outdoor and indoor car parks.
"A car parking lot is priced at around 200,000 yuan ($29,520) in cities such as Beijing and Shanghai. By increasing the parking efficiency, the cost can be brought down substantially. By innovating technology, the project brings real benefits to many city dwellers," said Wen.