Wuzhen Summit recognizes world-leading internet achievements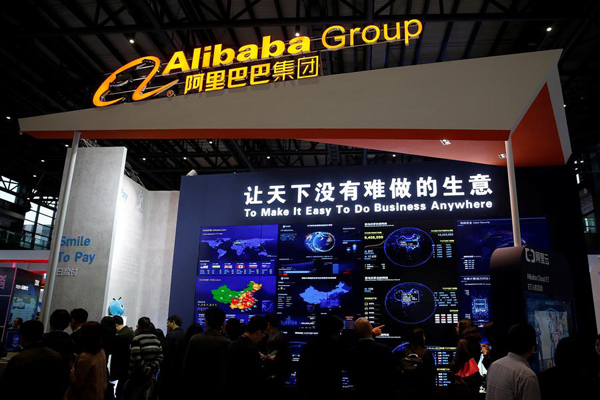 A sign of Alibaba Group is seen during the third annual World Internet Conference in Wuzhen town of Jiaxing, Zhejiang province, China November 16, 2016. [Photo/Agencies]
The third World Internet Conference singled out as many as 15 top-notch internet scientific and technological achievements, as the function of society and growth of economy have been more and more shaped by the breakthrough of technologies.
The conference released a list of the "world-leading internet scientific and technological achievements" for the first time after screening more than 500 technological achievements filed by candidates in China and abroad.
Technological achievements from 15 tech companies and research centers in the world are considered "word-leading" as they make breakthroughs in various areas, including driver assistance, artificial intelligence, chip and computing.
US major tech companies Telsa Motors, IBM Corp, Microsoft Corp, Chinese internet giants Baidu Inc, Tencent Holdings Ltd and Alibaba Group Holding Ltd are among the list.
Their achievements were selected by the recommendation committee consisting of 33 Chinese and prominent foreign figures, including Wan Gang, minister of science and technology, Wu Hequan, academician of the Chinese Academy of Engineer and Robert Kahn, winner of the 2004 Turing Award.
Wu, Chinese director of the recommendation committee, said at the releasing ceremony that the world needs more technological achievements to improve our lives. "I expect the appliance of the achievement to push the advancement of industry," he said.
Autopilot 2.0, an advanced driver assistance system launched by Tesla, was chosen as one of the top 15 achievements. Robin Ren, vice president at Tesla Motors Inc, said the company's mission is to accelerate the transition to sustainable transport and new energy.
"Our newly released Autopilot 2.0 is able to facilitate the future harmonious interconnections between pedestrian, cars and roads," he said.
He cited a report that said 94 percent of car accidents are caused by human error, which indicated that the ADAS will help improve driving safety.
The objective is to showcase the latest scientific and technological achievements in the world internet industry, demonstrate the creative contribution by internet practitioners and set up a platform for all-round communication on innovation.
The World Internet Conference, which is also known as the Wuzhen Summit, will last until Friday.