Business leaders see net transforming China Inc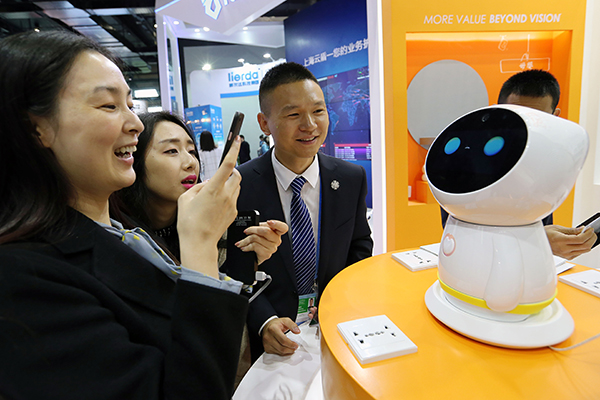 Visitors interact with a robot at the Light of the Internet Exposition in Wuzhen, Zhejiang province, on Nov 15, 2016. The expo is part of the ongoing Third World Internet Conference in the town. [Photo/China Daily]
Experts underline innovation, telecom, big data, connectivity
Innovation will play a big part in fueling China's economic growth as enterprises step up efforts to develop cutting-edge technologies and upgrade manufacturing capabilities, senior executives of leading companies said on Tuesday.
Zhao Weiguo, chairman of Tsinghua Unigroup Ltd, China's largest chipmaker, said innovation has been transforming the country's economy over the past several years.
"As one of the most impressive results of innovation, the internet is reshaping almost all industries, with ubiquitous networks, connectivity and big data. It will play an even bigger role in the future," Zhao said.
He made the comment while addressing the media at an industry expo ahead of the Third World Internet Conference, which opens in Wuzhen, Zhejiang province, on Wednesday.
At the Light of the Internet Exposition that opened on Tuesday, global corporate icons, including Microsoft Corp and IBM Corp, and domestic giants such as Alibaba Group Holding Ltd and Lenovo Group Ltd, are showcasing their latest products in a 22,000-square-meter exhibition center.
Jian Yibin, general manager of Foxconn Technology Group, the world's largest contract electronics manufacturer, said the company is trying to upgrade its plants with the internet and virtual reality technology. Such an approach can also help accelerate the transformation of China's labor-intensive manufacturing industry.
"We are working on unmanned smart plants where robots will take care of many tasks, workers can keep track of the real-time manufacturing process, and machine-to-machine conversation will become a reality," Jian said.
The annual event, which has attracted more than 300 enterprises from across the world this year, comes against the background of China's evolution into the world's second-largest economy with the world's largest base of internet users and a dynamic homegrown internet-driven industry.
As of June, China had more than 710 million internet users, more than one-fifth of the world's total, according to the China Internet Network Information Center, which allocates critical cyber resources such as website domains.
China's internet penetration rate is now 51.7 percent, 3.1 percentage points higher than the global average, the center said.
Ren Pingping, general manager of the marketing department of iFlytek Co, a leading Chinese firm engaged in speech and voice recognition technologies, said internet users in China present good opportunities for companies to experiment with state-of-the-art technologies.
"AI (artificial intelligence) will be the biggest driver of economic and social transformation over the next five to 10 years, and China is standing at the same starting line as other countries," she said.
According to Ren, with the help of AI, robots will become smarter and automobiles can be equipped with voice-controlled virtual assistants.
So far, about 160,000 developers are using the firm's voice cloud platform, more than double last year's figure.