Chopsticks shop brings dining culture to the table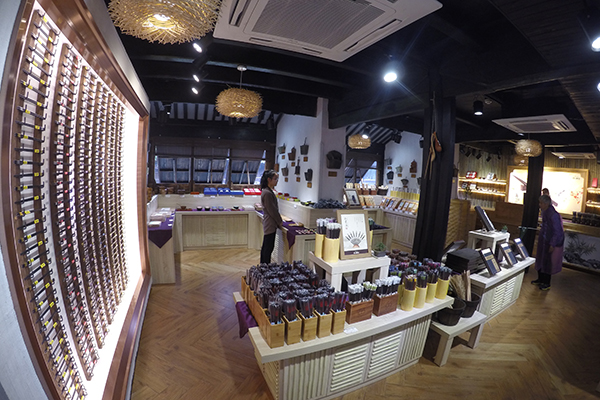 The chopsticks shop in Wuzhen displays a wall of chopsticks and paintings of the whole chopstick-making process and Chinese dining customs. [Photo/China Daily]
Visitors can get a taste of China's chopstick culture-and take away pairs engraved with their names-in Zhejiang province's Wuzhen.
The water town's chopstick shop was all the rage after Chinese President Xi Jinping and Russian Prime Minister Dmitry Medvedev dropped in during their visits for the World Internet Conference last December.
Daily sales are now hitting 30,000 yuan ($4,400) in peak season and roughly 10,000 yuan on average, according to Shi Leihua, who runs the shop.
The price of chopsticks at the shop depends on materials and efforts involved, and ranges from merely 10 yuan to several hundred.
They are mostly made of bamboo, ebony and metal alloy.
"Bamboo and wood chopsticks are traditional but need maintenance, since they might decay if not used properly, while those made of alloy are relatively new and more durable," says Shi.
The shop was closed in May for expansion to better cater to visitors' needs and reopened to the public during the National Day holiday week in October.
It now covers 150 square meters, as opposed to a little more than 20 square meters before.
A demonstration zone has been added to spice up visitors' experience.
"Guests' needs vary a lot, but most of them simply want to have their names engraved," says Fan Huajun, who makes custom chopsticks for visitors there.
The name-engraving process takes about five minutes and costs an extra 10 yuan for each pair. Engravings are either done by laser or are hand-etched.
Fan can only engrave roughly three pairs a day with relatively complicated patterns, such as those featuring potted plants and small animals.
He has been engraving for nine years. He used to apply his craftsmanship to a wide range of objects, including tea trays and furniture. He switched to chopsticks three years ago when Wuzhen aimed to give chopstick culture a boost.
The neatly decorated shop displays a wall of chopsticks, paintings of the whole chopstick-making process and Chinese dining customs. Nest-shaped lanterns made of wooden strips hang from the ceiling.
The variety of chopsticks on sale has increased, Shi adds.
Themes include horoscopes, zodiac animals and popular Chinese family names. Some commemorate major events, such as the recent G20.
Fancy versions for collection are separately laid out in a specially designated area.
Chopsticks originated from China more than 3,000 years ago. The increasingly popularity of Chinese cuisine has expanded their presence worldwide.
The simple utensil is believed to showcase a slice of Chinese wisdom since two simple sticks enable graceful grasps of food. Folklore has many rules about chopsticks. For example, a pair should be always well-aligned and neatly put together on table. Any disarray will incur bad luck.