Games well on track for 2022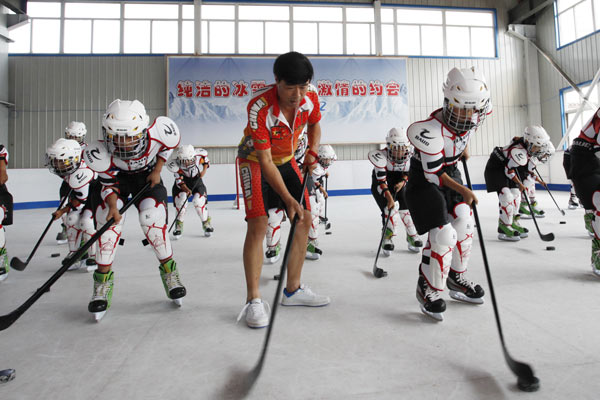 Young people learn to play hockey at an ice rink in Zhangjiakou, Hebei province, last summer. [Photo/Agencies]
Like a skillful slalom by an Olympic skier, Beijing has made good progress preparing to host the 2022 Olympic and Paralympic Winter Games, officials said.
While it has been just 18 months since the Chinese capital and co-host city Zhangjiakou, Hebei province, received the nod, full governmental support and the legacy of the 2008 Summer Games have helped with drafting major construction plans, training staff and rolling out sports promotions.
"Preparation work is on the right track and will be sped up next year," the Organizing Committee for the 2022 Beijing Winter Olympic and Paralympic Games said in its annual report in December.
Plans call for 25 competition and noncompetition venues for 2022. Among the 12 proposed in Beijing, 11 were built for the 2008 Games. The only new permanent venue, the National Speed Skating Oval, will be built at the site of the 2008 field hockey and archery competitions.
A judges' panel is assessing 12 designs for the skating venue, down from 66 submitted in an international contest in June. Ground will be broken for the winning design in April.
Construction of venues will start this year and be completed by 2019. Trial events will start in 2020, organizers said.
"Reusing the 2008 legacy venues really helps Beijing 2022 stay ahead, while verifying Beijing's promise to host the Winter Olympics in a sustainable way," said Gui Lin, with the committee's department of planning, construction and sustainability.
Construction also has begun on a high-speed railway linking downtown Beijing with Yanqing county and Zhangjiakou. Completion is set for the end of 2019. It will shorten a three-hour car ride between Beijing and Zhangjiakou to 50 minutes.
The emblem for Beijing 2022 will be unveiled in the second half of 2017, with the recruitment of sponsors starting this year.
The General Administration of Sport, China's top sports body, released plans in November to speed up construction of 650 skating rinks and 800 ski resorts to be built by 2022 to encourage 300 million people to participate in winter sports. After their first visit to Beijing in October, officials from the coordinating commission of the International Olympic Committee praised the host's sustainable approach, which is part of the vision of the Olympic Agenda 2020 road map.
"We are pleased with what we have learned. Beijing 2022 is off to a fast start. Initial preparations are well on track," said IOC Vice-President Juan Antonio Samaranch, son of the former IOC president.
"Our site visits confirmed that Beijing 2022 remains fully committed to the legacy goal of developing world-class winter sports facilities. Their success will accelerate growing participation in winter sports among the 300 million people in this region and throughout China," he said.