China's Xi, WEF founder agree on a way forward for the global economy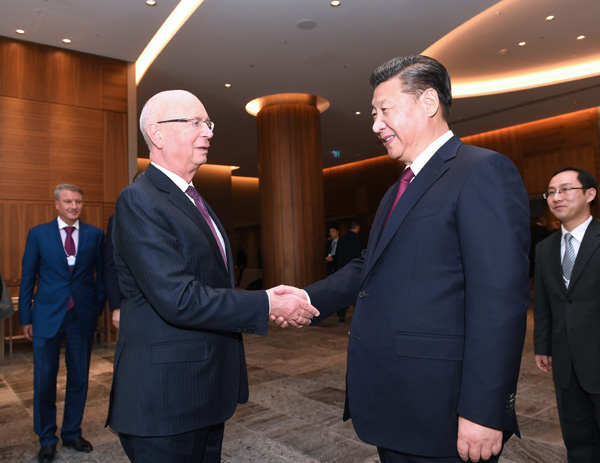 Chinese President Xi Jinping shakes hand with Klaus Schwab, Founder and Executive Chairman of the WEF (L) during the World Economic Forum (WEF) annual meeting in Davos, Switzerland January 17, 2017.[Photo/Xinhua]
The Davos World Economic Forum should send positive signals to the world and boost the people's confidence over economic globalization, President Xi Jinping said on Tuesday.
Xi made the remarks while meeting with WEF founder and Executive Chairman Klaus Schwab on the sidelines of the annual meeting of the Davos forum in Switzerland.
Xi made a keynote speech at the open ceremony of the forum. About 3,000 political and business leaders attended the forum.
The forum has focused on the current international situation and pointed out a way for the world economy to avoid traps, he said.
Xi pointed out that China now has more close links with the forum, and as many as 10 Davos summer forums have been successfully held in China.
More and more Chinese companies have become members of the forum, and Chinese element is increasing in Davos, Xi said, adding that the forum's influence has increased in recent years.
Schwab expressed gratitude for Xi's keynote speech, which he said was a path for the global economic development.
He spoke highly of China's support for the forum, saying that the WEF would like to make joint efforts with China for the solution of global problems.
After the meeting, Xi and Schwab witnessed the signing of a memorandum of understanding on deepening strategic cooperation between China's National Development and Reform Commission and the WEF.