Growing appeal for skilled researchers from home and abroad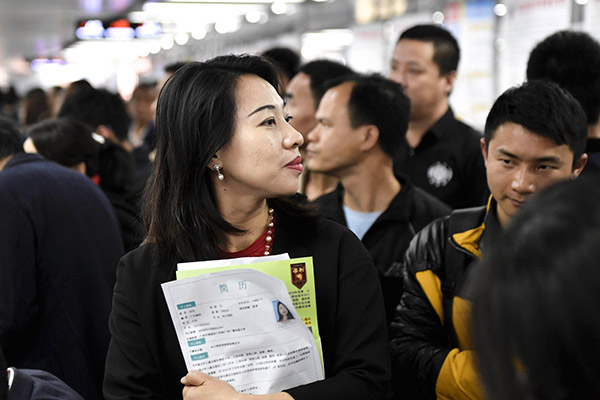 A job seeker looks through employment information at a job fair in Guangzhou in February. [Photo by Chen Jimin/China News Service]
Guangzhou's rich talent resources are giving the city a growing presence in the global innovation landscape.
In Guangzhou Development District alone, 34 experts from the Chinese Academy of Sciences and the Chinese Academy of Engineering are involved in research projects.
Also, 64 experts of China's global recruitment program, three national-level professionals enrolled in the country's recruitment campaign designed for domestic talents, and 16 experts supported with a State Council special allowance, as well as 117 distinguished research contributors and entrepreneurs work in the district.
Han Zhongchao, director of the National Stem Cell Engineering Technology Research Center, founded a biotech joint venture in Sino-Singapore Guangzhou Knowledge City in March, which is funded by the Chinese and Singaporean governments.
"Guangzhou has a top scientific research environment," Han said. "I am convinced that stem cell regeneration research can develop well here."
Yang Qin, former director of the Guangzhou human resources and social security bureau, said: "The government has invested 700 million yuan ($106.04 million) annually to attract experts and specialists over the past five years, an unprecedented move in the city's history."
Guangzhou has issued 2,500 talent residence permits, with 32 percent of these "green card" holders from first-tier Chinese cities, such as Beijing, Shanghai and Shenzhen, and 14 percent from overseas.
Ni Pengfei, director of the City Competitiveness Research Center at the Chinese Academy of Social Sciences, said: "Guangzhou is rich in well-qualified young labor, which can compete with other international metropolises."
The commercial application of research saw tech contracts worth 18.26 billion yuan signed in 2015, with 71 percent of the deals, worth about 13 billion yuan, finalized abroad.
"Guangzhou has already become an important hub for applied research and it has influenced research in Europe, North America and Asia," said Zhang Yueguo, Party chief of the Guangdong Academy of Social Sciences.
"Guangzhou's sound transportation, energy resources, education and healthcare are part of the major reasons for leading technology companies, such as Cisco, Huawei and ZTE, making investments in the city," said Wang Jianya, CEO of Nokia Shanghai Bell.
The internet of things has broad application prospects in these sectors, Wang added.
The city hosts many leading industry forums, such as the Fortune Global Forum in December, the leading airline networks event World Routes to be held next year, the 31st World Ports Conference of the International Association of Ports and Harbors in 2019 and the 13th Metropolis World Congress 2020.
Guangzhou has become an important venue for international information, technology, knowledge and professional events, said an official of the foreign affairs office at the Guangzhou government.